As the New York City Marathon is flagged off this morning, there will be a determined son who will run in his mother's memory. Among the 45,000 plus who have taken up the challenge, will be Sri Lankan Dayan Abeyaratne, 40, "to celebrate my mother's exemplary courage" and also to recognize the generosity of all those who helped pay for the costly medications that kept her healthy enough to carry out her mission.
His mother is none other than Dr. Kamalika Abeyaratne, the Paediatrician who took on the gargantuan task of challenging Sri Lankan society's stigma against those living with Acquired Immuno-Deficiency Syndrome (AIDS). She had the courage to stand tall and announce, "I am Positive" when this was a hush-hush subject. (Dr. Kamalika went public about her AIDS-status for the first time in an interview with the Sunday Times on April 30, 2000 headlined 'Yes, I am Positive')
Dr. Kamalika contracted the HIV virus in 1995 through a contaminated blood transfusion which was administered following a near-fatal traffic accident. "Ironically, this accident occurred while I was driving my parents to conduct one of their free clinics for disabled children in rural Sri Lanka," says Dayan in an e-mail requesting support for his efforts to raise funds through participation in the New York Marathon.
(http://www.harlemunited.org/teamharlemunited/runner.php?marathon_date=201111&runners_number=315) Wife Aruni, 14-year-old daughter Dhatri and Dayan are supporting Harlem United, an organization helping people living with HIV/AIDS in New York City, the Sunday Times understands, not only because they do a lot of "great work" but also because their activities are mainly focused on New York City. It was in New York City that Dayan and family lived for almost 10 years.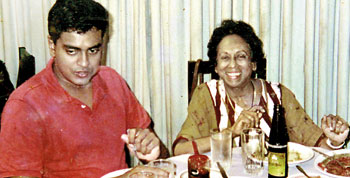 Memories of happy times: Dayan with his mother.
"New York City will always hold a special place in our hearts," says Dayan with emotion. "By the time of my mother's passing in 2004, she had become one of the most prominent HIV activists in Asia having made great strides in raising awareness and tolerance across the entire region. Most importantly, she is credited for having laid the ground work to make anti-retroviral medications available to all those infected with HIV in Sri Lanka," says Dayan who has broken the family tradition by not taking up medicine but studying finance instead.
I spent almost eight years in New York City, working for Lehman Brothers (and later its successor Barclays Capital) as an investment banker. We now live in Baltimore, Maryland where I work for a Fortune 500 energy company as a Vice President of Corporate Strategy and Development, he says.
Dayan, meanwhile, has been preparing for the race for some time and has logged over 900 miles of running this year. "I just love to run as I find it to be a great way to unwind from the stresses of daily life," he says in an e-mail to the Sunday Times. "It is also a very time effective hobby and helps me keep fit without sacrificing time with my family. Most days I get back from my runs about the same time my family is waking up. It is also extremely cost-effective - all you really need is a pair of shoes."
Recalling his school days at Royal College in Colombo, Dayan says that although he played rugby, he was not physically very active in his 20s. It was sister Shalini, a "long-time New Yorker and serious Marathoner" who has completed the Marathon six times who introduced him to running in 2001. "I became hooked, often sneaking out during long work days in my early banking years at Lehman to do a quick lap around nearby Central Park," he says.
Going back to the life-changing event of 1995, he calls it the "most formative" of his life. "At first I was greatly saddened and demoralized by the accident, her infection and the events that took place soon thereafter. How could this have happened to my mother - a person who had done so much to ease the pain and suffering of others who were sick? How come this happened to us when we were on our way to conduct a free clinic for disabled children of all things? Why were people choosing to attack my mother's character instead of focusing on how she was actually infected so that they could stop it from ever happening again? It seemed like there was nothing good in this world and I recall feeling extremely bitter about life in general," he says with emotion.
However, two "almost miraculous things" followed……….."First I learned the two most important things I ever learned from my parents. The first lesson was never to stand down in the face of even the greatest adversity. In my mother I saw tremendous courage at the time – she was determined not only to get better but also to use her position as a prominent and highly respected physician to help others with HIV/AIDS. If anything, my mother's courage was second only to that of my father's (Dr. Michael Abeyaratne) and I still marvel at the sheer dedication and strength through which he tirelessly took care of and protected my mother," he says, adding, "The next big lesson I learned from my parents during that time was to always stand by your beliefs, no matter what the cost. As physicians, my parents understood that mistakes occur while treating patients and vehemently refused to take any legal action against the hospital, even at a time when we did not have the resources to ensure that my mother received the proper treatment for her condition."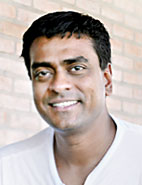 Dayan
All the adversity that we faced was soon dwarfed by the efforts of those who chose to be supportive and constructive. Starting with our then President Chandrika Kumaratunga who not only ordered a full and fair inquiry into my mother's infection but also arranged for the resources for my mother to receive the anti-retroviral drugs to the effort and contributions of friends, family, patients and colleagues. I learned that good people who do the right thing will never be short of friends and there is in fact more good than bad in this world, adds Dayan.
As Dayan sets off on this challenge today, he has to overcome the infamous "wall" at mile 20 where runners and especially less-experienced Marathoners simply run out of steam around the 20th mile. Pointing out that it is attributed to the fact that the human body is only designed to store enough glycogen to last about 20 miles of running, he explains that rigorous training and replenishing the energy storage by eating while on the run is said to be the key to getting past this.
With sister Shalini at his side in the last six or seven miles, he is hoping he will make it through the wall.
Dayan, his well wishers are sure, will have the backing of the whole of Sri Lanka, as they wish him – best of luck.