The Honda Dream Factory has found its 11th Cultural Engineer and his name is Vidhura Ralapanawe. The Sri Lankan won his place in a contest created by the UK based Guardian newspaper.
"It's good to be me," Vidhura says a day after his win was confirmed.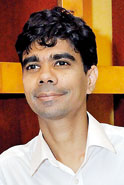 Pic by Susantha Liyanawatte
For the sustainability enthusiast who as Manager of Sustainability and Communications at MAS Intimates, had helped design the garment manufacturing giant's Thurulie eco-factory and then their subsequent, pioneering garment, the Carbon Neutral Bra for Marks and Spencer, this appointment has the potential to be a life altering, career defining moment. Even as we speak, his plans are already in motion.
Before the month is out, he'll be in London to participate in his first gathering with Honda's other Cultural Engineers. At the Guardian hack days event, Vidhura will have a chance to do what he's been looking forward to most – to sit down to brainstorming sessions with some of the most creative, intelligent, passionate people in the world.
Vidhura credits the enthusiasm of friends, family, colleagues (and more than a few Sunday Times readers who read his story featured in the Plus of October 23) with getting him this far. The Guardian competition threw the onus of selection on to the public, using a system of votes to decide the victor among five shortlisted candidates.
Following an outpouring of support, Vidhura won with over 50% of the votes cast in his favour and will now join the other Cultural Engineers for his first session on the 19th and 20th of this month.
The event which is developed in association with hack day specialists Rewired State, will put the 11 cultural engineers into the company of 23 of the UK's best developers, then step back to watch the sparks fly. Teams will use their time together to develop their ideas, with one simple question as a guide: 'If we never venture into the unknown, how will we get anywhere new?'
A £2,000 grant from Honda awaits the creators of the most outstanding idea on the day. An additional £2,000 grant will be awarded to the generator of the 'favourite idea' inspired by one of the hack day event's four themes - quality, design, technology and evolution. The latter will be judged, once again, by readers of the Guardian.
"One of the intentions of this session is for us to also work within that context to develop our ideas and plans," says Vidhura, adding that his special interest will always be finding ways of promoting sustainable practices, particularly in the corporate context. "I see building awareness as a key part of that," he says, emphasising that he hopes to explore ways in which Sri Lanka can move to the forefront of the movement.
He's also interested in the process itself. Rewired State will be creating a unique environment for participants, and Vidhura hopes to learn firsthand how to create the space and facilitate the processes that promote creativity. "We have to overcome the numbers driven approach," he says, "for me, a lot of the challenges to sustainability cannot be resolved in a business as usual scenario." Emphasising the need for intellectual room in which people can really stretch themselves, he says, his enthusiasm evident, "there's a lot to learn."