It's hackneyed and it's clichéd (and every other word the thesaurus will give you) to talk about and use "pain" and "hearts" as inspiration for art. But despite everything to do with emotion going out of fashion, individual pain and individual hearts are most definitely here to stay.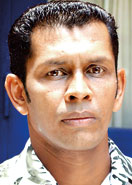 Manoranjana: Asking questions through his sculptures
From November 8 to 20, well-reputed sculptor Manoranjana Herath will exhibit some of his work at the Barefoot Gallery: and each and every work will seek to express something of pain in hearts. The exhibition will feature 14 mixed medium sculptures, all "very new" and created along the theme 'Painful Hearts'. All of the pieces portray some part of Manoranjana's personal experiences as a human being. "We have lots of questions about life, as individuals and as a part of society, but there are no answers out there" he explains. "I want to give these questions some form through my work.
And of course, I feel relief after I have done that!"The form 'Mano's questions take on once he's done with a piece are only semi-abstract and therefore come across as unusually accessible to the lay viewer. "I don't like to shock people," he expounds his artistic philosophy, "I just prefer to create something that will speak to each person individually." The figures in Mano's works are indeed presented through his eyes and hands as a mediated reality, but they are undeniably recognizable and therefore not alienating like most contemporary art tends to be to the artistically ignorant.
Manoranjana places the personal above the collective because he believes that "current society doesn't focus enough" on matters of the heart. He quickly explains that he doesn't mean "just this thing associated with love, it's our whole being. It's the heart that keeps the body going! I just want to remind people and share that message."