I was fortunate recently to witness an unprecedented event in Sydney, Australia. It was unique as it represented two distant periods of rich lyrical compositions by a single artist, merging his work from the 1970s and the current post war era. The lyric writer is none other than the much loved Sydney lawyer, Maithri Panagoda.
Maithri Panagoda commenced his artistic journey in the 1960s whilst still a student at Ananda College, Colombo, and in fact won several prestigious awards. At college, he won the A.J. Fernando Memorial Gold Medal awarded to the best student of the Arts Section, the F.R. Senanayake Gold Medal awarded to the best in Sinhalese proficiency, and the U.B. Dissanayake Memorial Award. He also won the award for the first place at the open poetry contest conducted by the All Ceylon Buddhist Students' Congress and for the best translated work at a contest held by the Sri Lanka Literature Board.
In 1975, Maithri published his own collection of realistic poetry named 'Wasantha Udanayak Nowa' which was highly acclaimed by renowned writers such as Prof. Tissa Kariyawasam and Prof. Sunanda Mahendra.
During the golden era of lyric writing in the 1970s, Maithri wrote patriotic lyrics for several well known singers such as Neela Wickramasinghe, Niranjala Sarojinie, T. M. Jayarathne, Abeywardena Balasuriya, Amara Ranathunga, and H.R. Jothipala, and was acclaimed as a versatile lyric writer. He had the rare fortune of engaging great musicians, such as Dr. Premasiri Khemadasa, Dr. Lionel Algama, Dayarathne Ranathunga and Justin Gallage to compose the music for his lyrics. His songs swept across the length and breadth of the country becoming household hits. Maithri's newly released CD compilation titled 'Sudu Weli' contains 10 songs by these popular singers.
His legal studies and career took him firstly to England and then to Australia but he never lost his humanistic touch and conducted his practice with compassion and humility for affected individuals such as Aborigines, prison inmates, the injured and other disadvantaged groups.
After 30 years, Maithri's memories have been reawakened through the sense of peace which his motherland currently enjoys after a long drawn-out war. This awakening has climaxed in the launch of 'Sudu Weli', a CD which is destined to be a household collection of popular songs for everyone.
Sydney singers Aruna Kannangara, Lanka Priyanganie, Duncan Karunarathne, Chandrani Buddhipala, Nimal Punchihewa, Chaminda Kuruppu, Dulip Jayakody, Lalith Kalupahana, Thisal Padukkawidana, as well as musicians Sangeeth Wickramasinghe, Indrajith Mirihana, Ravi Kulathilake, Aruna Kannangara and Lalith Shanthapriya have all contributed to 'Sudu Weli'.
Critiquing Maithri's creations of both eras, Don Wickrama AOM, who spoke at the launch of the CD, stated that his lyrics emanate immense patriotism and humanism.
The launch on Saturday, October 22 at Thornleigh Community Centre in Sydney brought together an unprecedented gathering of artists and distinguished guests.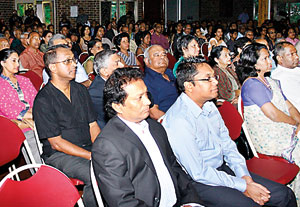 A section of the audience and below a dance itemperformed at the launch
The venue was decorated with graphically rich thematic posters which invited the visitors to enter into Maithri's world. The ceremony began with the chanting of Naraseeha Gathas and the traditional oil lamp being lit by little girls clad in lama saree.
Then followed video interviews with leading Lankan artists such as Nanda Malini, Victor Rathnayake, T.M. Jayarathne, Ravindra Randeniya, and Somarathne Dissanayake who commended Maithri's creations. Colourful video song clips professionally created in Sri Lanka brought Maithri's lyrics to life.
A dance segment saw young dancers gracefully moving to the melodies of Maithri's songs while a cello recital by Maithri's versatile musician son, Mathisha Panagoda was a highlight of the event. It is to be hoped that Maithri will continue to present us with more of his creations and take his rightful place as an accomplished lyric writer in the Sinhala literary world.