Soho Bistro (Park St Hotel): Weekends unleash new spice themed nights. Friday offers Mexican bites, Saturday is for Tandoori Nights. New chef Christopher spent six years at the American Embassy in Iraq where he was the only Lankan departmental executive chef. Cooking for those experts at cooking up trouble on a global scale has armed the chef with a fine cutting edge. Unsurprisingly, he is a Culinary Guild gold-medallist. Despite misgivings about a Sri Lankan making Mexican cuisine, I'm expecting fireworks.
Until I am brought some fried wafers protruding from a jaundiced lump, that ghastly local sweet yoghurt. This is meant to be nachos and sour cream. I'm not impressed. The chef is summoned. He smiles sheepishly that the "sour cream" is indeed sweet yoghurt. It is promptly replaced. With a blob of whipped cream. I am coming to the not unreasonable conclusion that most Colombo chefs believe the food critic is not well-travelled, is unlikely to have encountered authentic preparations and is only too happy to be awed by any mediocrity dished out. I prepare for a débacle.
Chef Walid at Galadari: The best guest chef in town?
But the proceedings take a dramatic turn. A zesty salad (Fiesta Mexicana Tostada, which sounds grander than it is) precedes piquant tomato soup (seafood and meat alternatives available). Neither sugared nor superfluous with oil (as is Colombo's norm) but with a dash of spices and lots of razzmatazz. Mexican tomato rice comes next accompanied by a baked potato boat dressed in guacamole and cheese. If I thought this was the main course, the pièce de resistance presents itself with a burritos and deep fried chimichanga à la Tex-Mex. Whilst my natural inclination is to the non-fried option, the alluringly golden, neatly wrapped fried version takes my fancy. There isn't the slightest oily smear, the chimichanga could have been baked- and this attests to the chef's technical prowess.
Masterful too is the well-proportioned filling of kidney beans (meat options available), guacamole and a slim cheese film. Contrast with Colombo's other so-called "Mexican" wraps, limp and barely containing the vulgar ooze of cheese. Chef's salsa tastes right too. Admittedly, Mexican cuisine ought to be furiously spicy, leave the eyes streaming. I suspect chef is accustomed to cooking for those with Tex-Mex tastes, but an invigoration of spice would enhance the traditional. And it would give you an excuse for copious glasses of Colombo's coolest fruit punch!
Dessert. Fried banana in a coconut and brown sugar sauce. I'm about to spurn it. I'm urged to but sample. I profess the chef certifies his skill indisputably as does the charming new restaurant manager Reshan. Slick and smart and so very young, he imparts a hitherto wanting raciness to the venue. Head waiter Nisha and inimitable hotel manager Mr Nishantha supply the rest.
And then, this bistro is a sensation of style, with its fuming red tableaux and lamps like rouge umbrellas raining out of black-and-white striped ceilings. There's no keeping the rain out… If thunder storms disallow lapping up the embowered poolside garden, sit under cascading eaves of verandahs embroidered around a brilliant blue pool. As lightning sizzles the skies and batons of rain strike, the pool simmers as if in a crackle of crystal cloves whilst the pillars embracing the pool are tremulous with reflected water. The city's sexiest setting. With wonderful food and service, Soho Bistro has finally concocted a resist-me-if-you-can recipe.
World Spice Festival: One gets an unmistakable impression of a certain lassitude about it. Several members of staff at participating hotels evince that the festival, which hasn't particularly evolved, is rather an annual imposition. With international chefs now visiting Colombo on almost a weekly basis, The World Spice Festival has lost its impact. And if the organisers intended to trap tourists, this is surely a delusional ambition. I'm a travel writer but would never pitch the Spice Festival to any international publication. The tourist would be better directed to a Sri Lankan cuisine restaurant.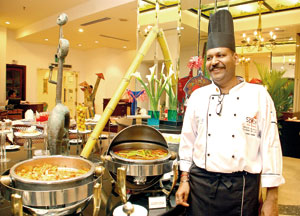 Malaysian Chef Louis dishes out a tasty peanut sauce at the Ceylon Continental
Asking them to waste limited time in this city to try middling creations from obscure chefs of a foreign city is like sending a visitor to Paris to eat curry. And why not, be it an exceptional curry. It's just that the Spice Festival chefs are not especially renowned, some are not hygienic (I got food poisoning) and I'm unsure with what authority the organisers confer upon them grandiose titles like "master" chef. You cannot pick some chef off Maradana, put him in Mayfair and declare him a "master" chef because he makes "authentic" Lankan cuisine. "Authentic" is not a synonym for "good."
It also defies comprehension why the festival is called the World Spice Festival when most of the cuisines on exhibition use no spices. I don't mean to rain on the Tourist Board's parade (they ensure the rain gods do so yearly with admirable zeal). But there is little to recommend this fortnight feast. Yet, as the hotels find it an annual imposition, journos are imposed upon to make some comment…
Arabic Food (Galadari): Galadari's annual import, banker-turned-chef Walid, from Cairo's Intercontinental City Stars satisfied in-house Arab guests with his meaty mains, kebabs and Lebanese specialities. Surprisingly, though, salads were infused with a sharp marinade generally reserved for pickles. I'm persuaded. Chef Walid is too good a chef, perhaps the best guest chef, to have authored these. But he alone could have made the superbly smooth hoummous and his deftness manifests in Arabic desserts he personally prepared like Ayesha Alzury.
Soho Bistro appetizer
Baklava, courtesy of the local pastry kitchen, was anything but... I much prefer Galadari's tribute to spice, their steamy ginger pudding, a regular offering at the coffee shop buffet or even the spiced sundaes conceived for the festival- they even actually contain spices. Try Bedouin (brownie bedecked in nutmeg-sprinkled butter-crunch in Kahlua).
There was much speculation about the belly-dancer's origins. One guest hoped for a Moroccan like Berlusconi's. Nobody quite anticipated the Sri Lankan belly-dancer. There was much belly and not as much dance. Nevertheless, the gyrations left the restaurant in cataclysmic upheavals. I'm unsure what appalled more- the belly-dancer's dimensions or the displacements.
Malaysian Food (Ceylon Continental): Malaysian Chef Louis' peanut sauce is lovely. I say I heard he won a gold medal once. He says he won several. But he also says he specially prepared some Malaysian curries for me which seemed remarkably Sri Lankan (brinjal moju, dhal, ambarella curry…). I ask if there's anything else he has to say. He says some things should remain secret. One secret is out: With most restaurants going gapingly empty, the Spice Festival is fairly catastrophic. Notwithstanding, it is persevered with.
Spoilt for choice at Cinnamon Grand's Pakistani food fiesta
With the World Spice Food Festival in Colombo, the innovative Cinnamon Grand's Pakistani exotic food fiesta is the talk of the town.
The bazaar frontage of the Courtyard restaurant is where Chef Amir Khan, who has turned serving delicious Pakistani food into an art form is laying on a theatrical daily dinner experience until November 9.
There's an array of food from the freshly tossed salad starters dressed in herbs, mint leaves and mouthwatering plum sauce. One can take a leisurely break between courses to sink into sparkly cushions at the entrance and have your hands traditionally painted in henna or enjoy the exhibition of exciting prints of castles, exotic street food, salt mines (something the country is famous for producing) and images of the green eyed hilltribe people, who are direct descendants of the Greeks, and much more.
With over 30 main courses to pick from one is spoilt for choice from the slow roasted mutton on a spit to the traditional breads like Chapattis, Tandoori Roti, Paratha, and Naan, which are freshly baked in an open clay oven daily to Basmati rice pulao/Pilaf and the sumptuous biryani (especially the popular Murgh).
Don't miss the incredibly popular Tahiri biryani, kebabs or boti as they call them, which are selections of succulent meats on skewers cooked to perfection.
Finish off your meal with one of twelve sweet/hot/cold delicious deserts and make sure you try the ice cream covered in black pepper and discover why this 'hot' new style of dessert has become an over night hit.