An off field incident at the France-Wales World Cup 2011 semi-final in Auckland's Eden Park last week where France gained a dramatic 9-8 victory over a brave Wales outfit brought back memories of a somewhat similar incident. This took place at a Wesley-Trinity game at Campbell Park in the 60's.
The Welsh player concerned underwent treatment for a back injury with an instrument resembling a vacuuming hose.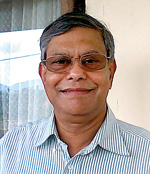 Clifford Elhart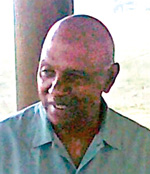 Nissanka Perera
The local incident took place when Clifford Elhart, of Trinity, later on Uva, Up Country and Sri Lanka flank forward took out a can and sprayed its contents very lavishly on his knee. To a query Clifford said, "This is a spray used by my mother to benumb the teeth of patients in order to make extractions painless." It was a well known that Clifford's mother Doris at that time was the Matron of the Dental Institute School in Peradeniya and took a great interest in Clifford's rugby and studies. Clifford and his family are in Sri Lanka from Colarado to celebrate Doris Elhart's 96th birthday which falls today.Clifford is back in Sri Lanka after eighteen and a half years.
He migrated to Brisbane, Australia in 1972 and ultimately set up his home in Colorado, USA after a stint in Wyoming. He was a member of the only Sri Lanka side that gained second spot in an Asian rugby contest at the 1974 Fourth Rugby Asiad at Longdon Place. The team was skippered by the indefatigable Indrajit Coomaraswamy. This was also the first time a Japanese rugby side visited Sri Lanka. In the final Japan beat the home team 44-6. Fittingly I met Clifford at the William Sinnathamby Trinity College Farm in Pallekelle. The farm is within a stone's throw of the magnificent Pallekelle Cricket Stadium and the Trinity Rugby Stadium.
To welcome us at the farm was another rugby stalwart, Nissanka 'Niko' Perera of Trinity, Kandy, Uva, Dimbula and Dickoya fame. Nissanka is presently the Manager of the Trinity Farm. Very soon talk centered on rugby. Clifford banked on Australia to win the 2011 World Cup.
The national squad for the 1974 Fourth Rugby Asiad in Colombo comprised: Indrajit Coomaraswamy (Capt), Hadji Omar, Jeyer Rodriguesz, Hafi Abdeen, Didacus de Almeida, Lanil Tennekoon, Shafi Jainudeen, Brian Baptist, Omar Sheriff, Reggie Bartholomeusz, Jeffrey de Jong, JeffreyYu, Dr. Maiya Gunasekera, Anton Benedict, Hamzil Samad, Charles Wijewardena, M.F. Fernando, N. Gunadasa, Harendra Gunasekera, A. Rodrigo, Mahes Sabaratnam, Clifford Elhart and Nimal Malagamuwa.
Sri Lanka and Japan climbed to the top spots in their respective groups to meet in the final.
As a planter Clifford served in Dickoya, Ury Group Passara, Watagoda off Talawakelle, Sorana Group Horana and Kataboola Group Kotmale. He captained Up Country at the annual Capper Cup games several times. He is married to Tina, a sister of former Josephian spinner Malcolm Franke.
'Niko' Perera is no green horn when it comes to rugby. He turned out for Trinity in 1963 and 1964 when Ananda Piyasena and Mohan Sahayam led the teams. Before taking up tea planting he turned out for Kandy SC and figured in the famous 1965 semi-final against the CR&FC which Kandy lost narrowly. Mohan Sahayam who led Trinity in 1964 was in that CR XV.
Nissanka's tea planting career has taken him to Kandapola, Dimbula and Dickoya. He played rugby for Uva, Dimbula and Dickoya as a forward. When the post of manager at the Trinity Farm fell vacant he was on the ball to take it up. He is very happy with it and the Farm itself is flourishing under his presence. His brothers Lakshman and Gihan too played rugby for Trinity in earlier years.