Look it is the Rugby World Cup 2011 Final played in Auckland between New Zealand and France. This will be another grueling tussle at the breakdown with McCaw and Bonnaire. Just as much as the Kiwis have a good back row the French third row will make life difficult for Weepu at the base. Odds at all ends favour a win for New Zealand. The les bleus who had an embarrassing loss against Tonga have come this far and are still alive to challenge the Web Ellis Cup.
The final of the World Cup is a big moment for players of both teams and France cannot be expected to fold down. They have not buckled down easily despite their history of missing tackles in this World Cup. What could be expected is a furious battle and lots of excitement. This final is a renewal of old rivalry and reliving 2007.
On the run up to the final there was lot of feeling expressed as Wales went down to France and everybody talked about the decision to order off the Welsh captain for a tip tackle .Did Rolland have it wrong or did Wales let their chances blow away.
What if James Hook had kicked the penalties right or the drop goal was successful. Then it would have been Wales that would have been in the final without their fighting for the Bronze. Yet the most asked question is what would have happened if Warburton had not been sent off.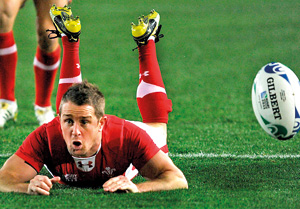 Wales' left wing Shane Williams scores a try during the 2011 Rugby World Cup bronze final match Australia vs Wales at Eden Park Stadium in Auckland on October 21, 2011. AFP PHOTO
Young Warburton who has been the pivot around which the success of Wales was built and in line for a world cup final. This same applied for Rolland who may have been in line for the final. With the IRB reiterating a number of times on tip tackles Rolland would have also been aware of the banning of two players after being shown a yellow card. Steve Walsh showed a yellow card to two players who made dangerous tackles during Tonga's victory over France.
They were cited and received match bans. When compared to McCaw who has an experience of over 100 matches Warburton had around 20 plus. It was the Leadership of Warburton that made Wales to be recognized. From the first whistle Wales was in heat and worked his way with aggression and hosts hit every breakdown with fury. In the other semi final it was Mc Caw that had to contend and control the dangerous Australian 'Pocock' and approached as hard but with fierceness and aggression but controlled. Warburton on the other hand went about his job in those first minutes and rushed about with a high intensity. With the reputation of this aggression may have not been necessary to bring he down Clerc.
This was the difference that Ritchie McCaw exhibited and got the better for his team. Given the background Warburton may have never intended to play dirty but to only play hard. Rolland acted without emotion in doing what he was there to do as directed and required by the IRB. If the receiver of the tackle was badly injured but there was only a yellow given what would have been the fate of Rolland be in refereeing at the highest level. Remember the judiciary handed out a three match ban.
Talking of the world cup another incident that has been much discussed locally was the return of a substituted player in the Semi Final between Australia and New Zealand. That was when Weepu came on to play for a bleeding player. That is allowed and has been clear in the laws of the game for many years
Most noticed this change as Weepu was seen and was a key personality in this game. The law has two exceptions for substituted players to rejoin the game. One being for a bleeding would and the other is for a front row replacement. This has condition and includes: "has used all front row replacements".
The replacement of a front row was done in test between South Africa and England in 2009 and raised a few eyebrows. Schmit the South African captain was taken off when SA thought the match was won. As things were threatening and steady the boys upfront were not a front row came out for injury (I thought as faking) and in went the SA captain. This was thought to have been bending the law and not in keeping with what was intended by the law makers.
Meanwhile the match for the Bronze was played on Friday between Wales and Australia. A consolation t salvages some pride for two teams that were campaigning for the top spot last week. This match for the 3rd spot was a psychological battle for two teams that are to meet in three test series in December.
The psychological winners were Australia beating Wales 21 points to 18 and also took the Bronze. The difference was again the Goal kicking as Wales missed penalties, attempted drop goals as well as a conversion. The last minute try was again another like last week with continued phases that took the game over the eighty minutes. Except this time they scored. Wales had possession while Australia had territory. Australia tackled their hearts out for around 140 times and won the third place.
Vimal Perera is a former Rugby Referee, coach and Accredited Referees Evaluator IRB