The 2011 World Cup final between Sri Lanka and India at the Wankhede Stadium in Bombay fell apart due to lack of commitment. In the end Sri Lanka lost by six wickets. Sri Lanka could have repeated the 1996 final against Australia when the side was led by Arjuna Ranatunga.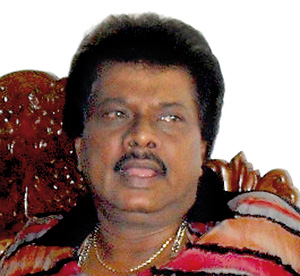 Roy Dias
This was the opinion of Roy Dias, the former Sri Lanka batsman, manager and skipper when interviewed by the Sunday Times. "The players and administration headed by Ana Punchihewa proved a decisive factor. All got their act together to achieve the impossible," said Roy Dias, adding, "For any sport there should be total commitment."
Dias played for Sri Lanka in 1973 and was a member of the inaugural Test team which played against England in 1981 under Bandula Warnapura. He has returned to Sri Lanka after coaching Nepal for ten years. Presently he is the coach and consultant to the Tamil Union C&AC.
He started his cricketing career at St. Peter's and was coached by Major General B.R. Heyn and Brigadier Dr. H.I.K. Fernando. Later on he turned out for Colts, SSC and CCC. He is storehouse of knowledge.
"There were no foreign coaches during my time. Today we hear of coaches for fielding, batting, bowling, consultants and advisors. Still the game has not changed that much.. The men that mattered ran their affairs without succumbing to outside pressure. Mr. Robert P. Senanayake was one of them. In the 2011 final the fielding was found wanting and some of the players were very slow due to hidden injuries.
"In the 1996 World Cup final was brilliant in fielding. There was no let up. Roshan Mahanama, Aravinda de Silva, Asanka Gurusinghe,Hashan Tillekeratne and Arjuna Ranatunga gave their hearts out and the result was a victory over Australia.
"During my era David Heyn, Neville Casiechetty, T.D. Rajapakse, Bernard Perera, Bandula Warnapura, Lalith Kaluperuma, Jayantha Seneviratne, Anura Tennekoon were a treat to watch. Then there were cricketers of the magnitude of Mahesh Rodrigo, Hector Perera, C.I. Gunasekera, Vernon Prins, Bertie Wijesinghe and Gerry Gooneratne who thrilled us with their unique styles.
"To get back to the 2011 side, they should have been totally committed. Apparently this was lacking and let India off the hook. Let's forget about the past and let us start afresh to uplift our cricket.
"It needs proper planning and there should be men of professional integrity to handle its affairs. Fitness is a vital ingredient, especially in limited over cricket," said Dias.
Stanley Jayasinghe, the former Sri Lanka cricket manager and administrator when contacted said that the Sri Lanka team performed reasonably well and was unfortunate to lose. "The Indians played a better game. I think we had too many advisors," said Stanley.
"In 1964 Sri Lanka achieved their first Test win over India at Ahamedabad and the side was led by Michael Tissera. It was a great team effort. India was outplayed by excellent fielding. There were no physios Sri Lanka had only their sheer grit and detyermination."