If football is to blossom fully in this land again, there should be re-activation on the 40 odd football leagues that once managed football throughout the length and breadth of this country. First these leagues must be brought to life and through them the sport will thrive once again.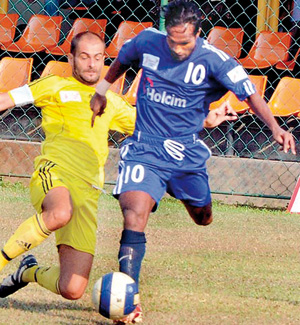 Action from a local football game.
No amount of tournaments promoted and organized from the ivory towers of Colombo will resurrect football generally in the country. This ruse of organizing Colombo based tournaments during the last three decades have only served the officials ,as a perfect cover for their inability to draw a programme to conduct sensible and effective domestic tournaments within the respective leagues.
Colombo is only the head while the outstations are the anatomy. For example a league which normally has more than 15 clubs affiliated to it, will in the process of a domestic league competition involving more than 200 players while providing thousands of supporters their monies worth.
As against this any outstation team taking part in a Colombo based tournament will involve only 15 to 18 players and probably a handful of supporters. It is therefore, imperative that leagues are re-activated and the domestic league tournaments held annually.
Towards achieving this end, it would be prudent, if the Ministry of Sports re-convene and re-constitutes the leagues and the Football Federation of Sri Lanka; such a step will be more representative and democratized.
By the early 1950s, football in the outstations was on a strong footing with the game having a stable base. Kandy, Badulla,Trincomalee, Ratnapura, Jaffna, Galle, Bandarawela, Kurunagalle,Gampola, Nawalapitiya,and Batticaloa were strongholds of the game and offered the elite of Colombo a good run whenever they met on the field.Inter-league competition on a two leg basis --home and away.
This gave the outstation fans and the general public the opportunity not only to see the elite of Colombo and other outstation players in action, but also to closely support and encourage one's own team in its home ground. Large crowds witnessed those glorious clashes in almost every principal town.
Each successive year made this particular football tournament a fiesta of rich quality. Outstation teams were not only making it hot under the collar for the Colombo teams but endearing themselves to thousands of fans by their unsophisticated brand of simple and subtle football, which gave a true indication of their technical advancement of the game.
The inter-league and inter-district tournaments were such a heavy draw that hundreds of fans and supporters traveled many miles to cheer their home team. While matches in Colombo drew more than 15000 fans, the outstation fields were equally filled with a large crowd.
Standard wise the outstation teams never played second fiddle to the star-studded Colombo clubs Bandarawela, Badulla, Kandy,Galle,Trincomalee,Jaffna had taken the better of Colombo on many occasions. Such was the standard of outstation football then.
In Colombo thousands queued up for early tickets, whenever teams from Badulla, Kandy, Galle and Jaffna played. Players were showered with treats and gifts,while the favourites and stars almost hero--worshipped. The usual fights and scuffles between rival supporters erupted in crucial matches, but the players by and large maintained a level of healthy rivalry.
The game itself was so popular that in the years between the late fifties and sixties more than 500 clubs were affiliated to the Controlling Body. The officials worked for the promotion of football. The time and conditions were good; the opportunities were there in plenty. It was not therefore no surprise that little Ceylon held mighty India to a draw, got the better of Burma and Pakistan during these memorable years leave alone many victories over top European teams that came our way. The decline of football started in the later seventies and by each year thereafter the game in both its popularity and playing standard deteriorated.
Several football leagues spread throughout this country form the base of the Controlling Body Those leagues are: Anuradapura FL, Ampara FL, Army FL, AirForce FL, Badulla FL, Balangoda FL, Batticaloa FL, Beruwela FL, Chilaw FL,Colombo FL, City Football FL, Dehiwela.-Mt Lavania,FL, Galle FL, Gampola FL, GovernmentServices FL, Gampaha FL, Hatton FL, Jaffna FL, Kandy FL,Kurunagalle FL,Kegalle FL, Kalutara FL,Kilinochchi FL,Mercantile FL,Matale FL,Matara FL, Mannar FL, Navy FL,Nawalapitiya FL,Nationalised Services FL,Negombo FL,N Eliya FL,Nugegoda FL, Point Pedro FL,Police FL,Puttalam FL,Ratnapura FC,Trincomalee FLVavuniya FL, Wattala FL, and Wennappuwa FL. Most of them in fact are no more than paper leagues today with the Football Federation evidently incapable of re-activating them.
To overcome this situation take immediate steps to meanfully resurrect school, club and league football in the country. We have 355 Local authorities spread throughout the country consist of members elected by the people which comes under the purview of the Ministry of Local Government. The Local authorities in addition to their other duties and responsibilities will be able to get involved in the common man's popular sport football in their respective towns.
The play grounds all over the country are neglected and not maintained by the local authorities by which the footballers are deprived of playing football. If the younger players are not created how are we going to create our future national caps?
The Minister of local Government and the Minister of Sports will be able to get involved in the development process of this sport which is less expensive and less time consuming. Further football is still the most popular sport all over the country particularly in the rural areas. Both these Ministers can get the FFSL officials seriously get involved in this development process, if Sri Lanka is to go places in the world of football or our football will remain at best a warm, friendly and funfair exercise limited to the Colombo city, just to cover up the nakedness of poor administration.
(Subhani Hassimdeen is a former National Football Captain and Coach)