Local driver Pasindu Peiris and Japanese rider Tomaya Suzuki emerged champions at the Fox Hill Supercross motor racing event which took place at the Sri Lanka Military Academy in Diyathalawa yesterday.

Tomaya Suzuki in his 125cc (2T) and up to 250cc (4T) (Race 2)
Peiris driving a Mitsubishi Evo IX won his maiden driver's championship after winning the two main races, the SL-GT Supercars up to 3500cc events thrilling over 100,000 fans gathered to witness motor racing event. A former prominent rider in the Asian circuit, Suzuki, outclassing defending champion rider C.S. Santhosh of India in both races of the MX Motocross bikes up to 125cc (2T) and up to 250cc (4T) and took the event to a higher level.
Naren Kumar who is tipped to be an Indian prospect for the World Rally Championships was placed second and 2002 champion driver Dinesh Deheragoda who drove a Mitsubishi Evo X won the third place in both supercar races. The Indian who topped the grid start in his Mitsubishi Evo 2000 took charge with a better timing from the qualifying rounds in the first round of the eight-lap race. He held the race continuously right to the end while other Sri Lankan drivers contested for the remaining places among 18 cars.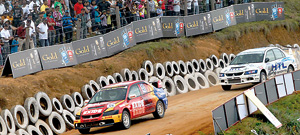 Pasindu Peiris and Naren Kumar of India engaged in a keen tussle in their SL-GT Cars up to 3500cc (Race 2)
(Pix by Sanka Vidanagama)
Peiris who started from the grid as second gave Kumar the stiffest chase he could be ever given, trailing by just inches till the finishing moments. Peiris attempted a few risky overtaking maneuvers but he was not successful until the end of the final lap. Kumar who held on to the lead for seven and one-third on the last lap was surprised by a thrilling Peiris move over with approximately 300 meter from the checked flag. He won the first race and became eligible for a top grid start in the second race.
Peiris averted Kumar from spoiling a possible championship chance and dominated the eight laps of the second race to win his first driver's championship. Kumar and Deheragoda finished at similar positions as in the first race. Former champion Aravinda Premadasa finished fourth on both occasions. Champion rider Suzuki, runner-up and defending champ C.S. Santhosh and his fellow Indian compatriot K.P. Aravind stole the limelight in both races of the 10-lapped Group MX Motocross bikes event. Santhosh who is an accustomed contender of Sri Lankan gravel tracks had good starts in both races but the 40-year-old veteran from Japan who made his first appearance in a local event rode his Honda CRF 250 with great confidence to overtake the Indian early on both races. Suzuki showed much experience than the rest of the riders who were lapped by the Asian trio. TVS team-mates Santhosh and Aravind finished as second and third next to Suzuki in both races. Gayan Sandaruwan who won the championship at five previous years was placed fourth and fifth respectively at both contests.
Veteran driver Upulwan Serasinghe who is an expert contender in the Ford Laser / Mazda category won two races. Sri Lanka Army's very own champion driver won the two races of the Truck and Jeeps class with a Land Rover Defender. Champion driver Peiris who appeared in the two SL-H Cars up to 1600cc races won the first. But he was compelled to take out his Honda CRB in the second contest after colliding with race leader Dilan Seneviratne in the third lap. Ashan Silva went on to win the race.
Young Shehan Adhikari emerged as the most successful rider by winning three after appearing in five races. He won both races of the Group MX Motorbikes up to 85cc/under-16 event and beat more experienced riders in the Motocross bikes up to 125cc event. Donald Buultjens emerged the winner of the Mini 7 1000cc race. Earlier his win was upheld due to a false start by the officials. Rohitha Rajapaksa won the Nissan March event. The Fox Hill Supercross was organized for the 19th consecutive year by the Sri Lanka Military Academy of Diyathalawa and was conducted by Sri Lanka Association of Racing Drivers and Riders.
Results:
Event 1- SLN Cars Ford Laser/Mazda 1300: 1. Upulwan Serasinghe, 2. Lalin Kirinde, 3. UC Perera,Event 2 - Group SL-S Cars up to 1500cc: 1. Damith Abeyratne, 2. Buddhika de Silva, 3. Shantha Suraweera,Event 3 - Group J Racing Motorcycles up to 85cc/under-13: 1. Jacques Gunawardena, 2. Jaden Gunawardena, 3. Binula Kithalagama,Event 4 - Group M Std/Mod Street Trails up to 125cc: 1. Lahiru Jeewantha, 2. Nihal Wijeratne, 3. Lucky Dharmabandu,Event 5 - Group SL-A Mini 7 1000cc: 1.
Donald Bultjensz, 2. WMK Wickramasinghe, 3. R Parameswaran,Event 6 - SL-GT Cars up to 3500cc (Race 1): 1. Pasindu Peiris, 2. Naren Kumar, 3. Dinesh Deheragoda,Event 7 - Group MX Motorbikes up to 85cc/under-16 (Race 1): 1. Shehan Adikari, 2. Hashan Chamika, 3. Evon Biyagee Gurusinghe,Event 8 - Group SL-A Cars upto 1050cc: 1. Ajith Keerthi, 2. Mahen Madugalle, 3. Hafiz Cader,Event 9 - SL-H Cars up to 1600cc (Race 1): 1. Pasindu Peiris, 2. Dilan Seneviratne, 3. Ashan Silva,Event 10 - Group J Motorcycles PW&QR upto 50cc/under-10: 1. Shavindu Shenal, 2. Shaveen Wanaguru, 3. DM Kalhara,Event 11 - Group MX Motorbikes up to 85cc/under-16 (Race 2): 1. Shehan Adikari, 2. Hashan Kumara, 3. Evon Biyagee Gurusinghe,Event 12 - Group M Std/Mod Street trails up to 250cc: 1. Dinesh Anuruddha, 2. Shiva Marappan, 3. Lahiru Jeewantha,Event 13 - Group MX Motocross bikes up to 125cc: 1. Shehan Adikari, 2. Lahiru Jeewantha, 3. Imal Manchanayake,Event 14 - Group SM Super motard up to 250cc: 1. Sarath Kumarasinghe, 2. Malavinge Uditha, 3. Sajith Karunasekera,Event 15 - Group T&J Diesel Turbo up to 5500cc: 1. Duminda Jayasinghe, 2. Shantha Suraweera, 3. Nishan Wasalathanthri,Event 16 - Group SL-N Ford Laser/Mazda 1500: 1. Upulwan Serasinghe, 2. Chaminda Weerasuriya, 3. Kaushal Samarasinghe,Event 17 - Group MX Motocross bikes up to 125cc (2T) and upto 250cc (4T) (Race 1): 1. Tomaya Suzuki, 2. CS Santhosh, 3. KP Aravind,Event 18 - SL-H Cars up to 1600cc (Race 2): 1. Ashan Silva, 2. Rizvi Farouk, 3. Janaka Dias,Event 19 - Group M Super Motard upto 450cc: 1. Ramal Pathiratne, 2. Suraj Perera, 3. Malavige Uditha,Event 20 - Group SL-N Nissan March up to 1000cc: 1. Rohitha Rajapaksa, 2. Ushan de Silva, 3. Ravi Bhagya,Event 21 - Group T&J Open: 1. Duminda Jayasinghe, 2. Dinesh Senanayake, 3. Cassim Wahab, Event 22 - SL-GT Cars up to 3500cc (Race 2): 1. Pasindu Peiris, 2. Naren Kumar, 3. Dinesh Deheragoda,Event 23 - Group MX Motocross bikes up to 125cc (2T) and up to 250cc (4T) (Race 2): 1. Tomaya Suzuki, 2. CS Santhosh, 3. KP Aravind