Cafe Coffee owned by Miss Nishara Jayaratne's stable lifted the prestigious Governor's Cup in a highly contested nine furlong race at the Nuwara Eliya horse racing track yesterday. The eight horse event saw some scintillating riding by the local and Indian jockeys with the winner holding on to brush aside the challenge of his opponents.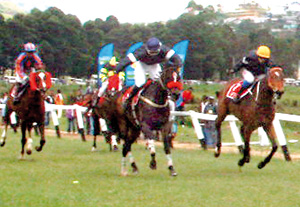 The much awaited Governor's Cup in Progress at Nuwara Eliya (Pic J. Weerasekera)
It was a memorable day for the Indian jockey M.D. Shoaib which proved to be a 'first time lucky' as he was riding in the big event for the first time. Two horses from the Isuru Dassanayake stables, one of the latest new horse racing owners to enter the fray, posed a threat to the winner but had to be satisfied with the second and third slot through Mr Majestic and Third World ridden by veteran jockey Ashok Kumar and Saddam Iqbal.
In fact the Jayaratne sables had a successful day by winning four of the seven races which was held for the day. They began with the second race through a horse owned by Mrs. Jayaratne Pancho Pete who took Multi Finance Cup. Two races later Joanna owned by Hasanga Jayaratne took the Mackwoods Labukalle Cup which followed with the Governor's Cup Stornoway lifting the Mobitel Cup giving Mrs. Jayaratne her second win for the day.
Isuru Dassanayake was the other owner to have a successful ending as he had two winners in Black Cat who lifted the Sumathi Cup and Shining Moon giving him a happy ending for the day. Another new owner M.P.R. Mallawaa took the first race of the day with his horse taking the Lemonade Cup.
Jockey Sohaib was in terrific form as he was on board three winners and was no doubt the cynosure of all eyes at the track while another Indian jockey Azmal Hussein had a double which he produced through horses from the Dassanayake stable. Trainer Sridha Selvaratnam had three winners while former jockey S. D. Lalith who is now a successful trainer ended the day with two winners.
The notable absentee in the prestigious Governor's Cup was three time winner Double Eagle who in fact won the race in the last three years. According to sources Double Eagle sustained a leg injury and most probably might have to bid goodbye to his racing days.