New Delhi: Retired spin wizard Muttiah Muralitharan slammed Sri Lankan Cricket Board for asking its players to return home midway through the Indian Premier League for a tour to England, saying the No Objection Certificate had permitted them to play till May 20.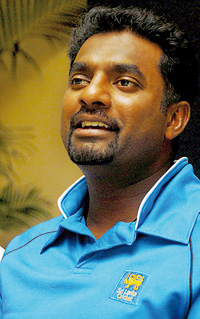 Muttiah Muralitharan
"I think the Board (SLC) has given them permission till May 20. I don't know what happened suddenly. The players were told to come on May 5. It is the fault of SLC because they signed the NOC till May 20 so if they change it to May 5 it is something wrong," Muralitharan, who quit international cricket after Sri Lanka's defeat to India in the World Cup final early this month, said.
"Players will get demoralised because if they go back on May 5 they play half of the IPL and they are going to miss a lot. SLC should have informed the players earlier, then the IPL franchises would understand and everyone would understand," he said.Muralitharan said that the incident could spark "friction" between cricket boards of the two countries and SLC would lose a lot financially if it antagonises the Indian Cricket Board (BCCI).
"There'll be a little bit of friction between the board (SLC) and the players and even the Indian Cricket Board. If the SLC is not going to support they are going to miss a lot from India, because when India tours Sri Lanka it is very important and if we are not playing in the Champions League Twenty20 we are going to lose some money. Friendship between India and Sri Lanka will be negative," he said.
"We have 25 million dollars of debt after World Cup. You don't have to antagonise India because when India comes only we make money and survive, so I don't know what's going to happen.
"It might get sorted. These things happen between countries but in the end financially we depend on India, whatever said and done. SLC will have to be careful," said Muralitharan. Courtesy PTI