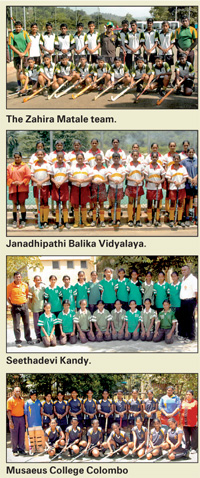 The reigning champions St. Thomas', Matale sparkled to retain the boys title with a 2 goals to one win over their home town rivals Vijaya College in the All-island schools boys under-15 hockey championship concluded last week at the Astro turf in Matale. The girl's title was won by Janadipathi Balika, Nawala.
In this closely contested boy's final, Vijayans dominated the first half almost totally to earn their solitary goal through Sajith Costa in the twelfth minute of play. After the change of ends Thomians displaying their true fighting spirit made their way through the tight cordon of Vijaya defenders to score two quick goals in the 47th minute by Sachinda Herath and in the 49th minute by TB Welagedara to seal 2-1 victory. Indrawansa Herath and MAM Ashroff controlled the final.
Janadipathi Balika, Nawala beat Musaeus College by 2-1 in the girl's final after the losers lead 1-0 at lemons. Centre forward Yasitha Prabhani and centre half Imesha Lakshani netted a goal each to give Janadipathi Balika 2-1 win. Left extreme Ruwani Welihinda scored the only goal for Musaeus. Samith Dissanayake and HM Hanaffi controlled the game.
In the decider for the boy's third place Zahira Matale beat St. Sylvester's by 4-2 on penalties after the game ended in a scoreless draw at full time. Former champions Seetha Devi Balika had the consolation of winning the girls' third place by defeating Visakha Vidyalaya 3-1 on penalties after a scoreless draw at full time. The most striking feature of this year's tournament was that favourite schools from the cradle of hockey, Matale, entering the semifinal stage and winning the first three places.
Boys semi-finals: Vijaya (D Abeysinghe and S Costa a goal each) beat Zahira Matale (M. Ahamed) 2-1, S. Thomas' (PD Ranaweera) beat St. Sylvester's 1-0. Girls semi-finals: Janadipathi Balika (Imesha Lakshani and Dulanjani Sandunika a goal each) beat Seetha Devi Balika 2-0, Musaeus (Ruwani Welihinda) beat Visakha 1-0