Last Sunday, a group of former school actors who had been students together in the '60s and '70s met to reminisce about a memorable theatre "non-event" from their teen days. This was the aborted 1971 Royal College (Colombo) Drama Society production of an Oscar Wilde play. The show had to be cancelled because of the first Janatha Vimukthi Peramuna (JVP) uprising of 40 years ago. A curfew was imposed on April 5, the day the show was due to open, and the island-wide curfews continued for a good month or more, completely disrupting the performance schedule.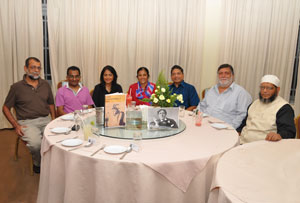 Royal College Drama Society "Lady Windermere's Fan" reunion dinner: (from left) Christopher Storer, Suresh and Veena Gunasingham, Kuraisha and Mehran Wahid, Michael Matthysz, and Imtiaz Muhsin. Also present at the dinner but not in the photo were T. K. Aroof and Zaki Alfi. Dinner was at the Xilaton. Pic by Lakshman Gunatilleke
Sunday's meeting was the group's first reunion in 40 years. The party assembled at a Chinese restaurant in Colombo and drank a toast to all of the members of the cast and crew, many of whom had moved overseas decades ago, and three of whom have permanently moved on.
The evening was organised by the Royal College Green Carnation Society, a short-lived fraternity of English Lit students that had flourished and faded during the three months of preparation for "Lady Windermere's Fan." The recently revived society had set the stage and mood for the reunion dinner, incorporating little Wildean touches in the décor and the dinner programme.
Posters with photo-portraits of the famous Irish playwright were put on display, and authentic green carnations (a Wildean affectation) adorned the dining table. A facsimile of a yellowed copy of the 40-year-old programme was passed around, and laminated cards bearing a quotation and a thumb-nail portrait of Mr. Wilde were distributed as mementos.
It was an evening of happy-poignant memories, and of tributes to friends present and absent. It was also an occasion of much mirth. Hilarious comments and one-liners punctuated the conversation. Someone said, "Oscar Wilde's ghost should have been invited," and another said, "He was, and he's here – and he's sitting next to you."
Dinner was a Chinese spread to satisfy a hungry adult with a schoolboy's appetite – Sichuan stir-fried chicken with dried chilli, fried garoupa, stir-fried kankun with green garlic, and Yang-chow mixed vegetable fried rice.
The evening was rounded off with a reading from the fourth act of the Oscar Wilde play, a text that most of the guests were seeing after 40 years. They reprised their original roles and swapped parts.
Imtiaz Muhsin, who was Lady Windermere, sounded wistful as he read lines he had hammed up four decades ago. The 1971 production, which involved schoolboys dressed up as women and striking high society attitudes, marked the moment that Colombo discovered and embraced "Camp" and its excesses.
There was also an Oscar Wilde Quiz, with 10 multiple choice questions on the Irish writer and his work (questions like "Where was Oscar Wilde imprisoned?" and "Where was Oscar Wilde buried?" were accompanied by such obvious wrong answers as "Welikade Jail" and "Kanatte, Borella"). The prize for the highest number of correct answers was (you guessed correctly) a handsome hard-bound copy of The Complete Works of Oscar Wilde. Christopher Storer, who played Parker the butler in the play, was the winner.
After dinner, as the party filed out into the car park, the guests insisted that the revived Green Carnation Society continued its mission of organising "Wildean-Windermerean" events, and that the surviving cast and crew ensured their presence at the 50th anniversary dinner, 10 years down the corridor. There was an overall feeling among the guests, as they shook hands and said good-bye, that Mr. Wilde had enriched their store of wisdom and happy memories. Above all, they insisted that the reunions be strictly in the Wildean spirit – light, entertaining, and a tad outré.
Airily quoting from "Lady Windermere's Fan", Suresh Gunasingham, who was Lord Augustus Lorton in the play, said, as he climbed into his car, "Life is far too important a thing ever to talk seriously about it."