Off the sandy track an hour south of Colombo, amid lush banana and palm trees so typical of the Sri Lankan landscape, lies the sleepy fishing village of Payagala. Along with many southern coastal areas, it too was battered by the 2004 tsunami, but from those ashes, rose Hearts & Hands (H&H), overseen by the dedicated duo of Marianne Johnpillai and Sue Harrison.
To arrive at this point, rewind to 2003 when visits to a destitute parish widow prompted Marianne to form the registered charity HOPeS, Homes of Peace and Shelter, with like-minded trustees, with the aim of building houses in Athurugiriya.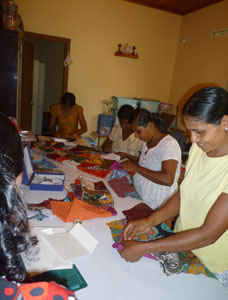 Hands that keep hearts happy: Women turning out cards, bookmarks, bags and patchworked handicraft
In the wake of the tsunami, Marianne chanced to visit Payagala and felt the extent of the devastation at the sight of a man shovelling frantically, looking for the last vestiges of his shop. She hit upon the idea of extending HOPeS's remit to repair damaged houses and make new ones for those who had lost their homes, in due course building 35 houses. "People had taken possession of their homes within a year. It wasn't too hard actually, since HOPeS had been active pre-tsunami and had a good credibility and accountability record," said Marianne.
"I found it difficult to say goodbye when the rebuilding project was over," says Marianne. She called an informal gathering of the local women benefitting from HOPeS's reconstruction programme, and proposed that they inject something back into the community. "We hoped to move people's hearts to help our cause; the women would be putting their hands to good use, so Hearts & Hands seemed to fit the bill," smiled Marianne, ending up with a group of seven women when H&H was founded in mid 2006.
Sue brought her greeting card-making skills to the table; the women turned out to be fast learners and a stupendous 8,000 intricately hand-crafted Christmas cards were sold in their first year. Sadly, because of the economic downturn, card sales plummeted and the women had to fight against all odds to keep H&H alive. Delicate wine bags, a variety of all-purpose bags, bookmarks and jewellery have been added to the repertoire. More recently, the women were trained in patchwork, turning out exquisitely hand-stitched quilts. Connections with Colombo's expatriate community were a conduit to participation in bazaars, raking in their best takings ever at the 2010 Christmas charity sale.
The women themselves have interesting tales to tell. Desperately down and empty following the tsunami, Janaki attended Marianne's meeting and has never looked back. "Being here helped me overcome my fear of loneliness, the terrible memories. I can be near my family and the working hours give me much-needed flexibility," she added shyly.
Janaki roped in her sister, Sriyani, who is now the on-site supervisor. "I came looking for Marianne Madam, to test the waters so to speak; it's one of the best decisions I've ever made." A smiling Sriyani was excited at having recently attended a puppet-making workshop, where she was thrilled, not only to have found a knack for it, but also to have been able to help other participants with her knowledge of sewing. "Being a part of H&H has impinged on other aspects of my life too. It's made me more independent; I can travel to Colombo by bus now," she said proudly. Boxes of paper, fabric and trimmings all struggle for space and Sriyani hopes H&H will be able to raise funds to build a small extension to their workshop.
An emotional Erandi had no words to express how she feels and how H&H has changed her life. "Madam and Sue Miss gave me a chance despite my deformed right palm," she says.
"Erandi is a real success story," Marianne interjects. "We persisted as we could see the potential in her; she's come a long way."
"This suits me perfectly as I'm not able to work at the factory anymore," says mother-to-be Nimali. What's more, she has learnt new skills and is happy to supplement her family's income. Inoka was grateful to be taken on, despite being seven months pregnant back then, "H&H lets me balance home and work well," she says.
"Attending the H&H stall at a Christmas bazaar last December boosted my confidence to meet new people," says Madhusha, the youngest of the women. "I've never felt alone since I became involved. Many people before gave us false hopes, so I'm deeply grateful to Marianne Madam for sticking to her word," she said.
The common thread in the women's stories is that Marianne is their de facto counsellor. When asked about her role as guide and mentor, Marianne says "I never want to come across as condescending or patronising. Like squeezing water out of a rock, one must delve deep into the women's psyche to figure out where they're coming from." She would like to assist with their children's nutrition or education, just as she would take more women on board, but for the lack of funds. That doesn't prevent gestures of love, like recognition of birthdays and paid maternity leave, making the women feel special.
Marianne has been witness to an increase in the women's sense of self-belief, their own reactions on discovering hidden talents and giftedness, and ultimately, setting higher quality standards for themselves. "All our struggles have been worth it at the end of the day. H&H has engendered a positive difference in these women's lives; they take pride in their efforts. It's a tremendous feeling, empowering women to realise that every little thing helps. Sue and I would like to see them running the show in the future."