If you were to hang pieces from artist Tilak Samarawickrema's first collection of Tapestries (you may remember they were once exhibited at the Metropolitan Museum of Modern Art in New York) alongside his more recent creations, you would see that nothing less than a complete reimagining of his aesthetic has occurred. Art lovers in New Delhi had a chance to judge this for themselves at Tilak's newest exhibition. Titled Contemporary Woven Art, the exhibition that began on April 1 ends today at the gallery Art Motif in India's capital.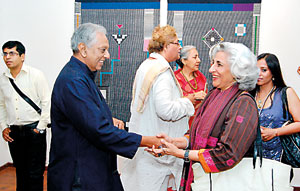 The artist greets guests at the exhibition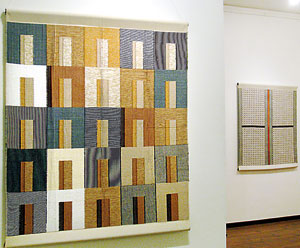 Tilak created a special digital animation sequence for the opening of the exhibition that employed deconstructed elements from his tapestries. The event generated multiple mentions in the media, with Tilak spontaneously being asked to comment on Sri Lanka's World Cup chances in one prominent paper. Eminent members of the art fraternity were joined by other notable guests at the opening, which seemed to have drawn a good crowd. For this new audience, his more recent tapestries were the focus, though his earlier were also of interest.
A number of years separate the two sets and Tilak's return to the form tapestry. Well known for his architecture, art, textile design, animated cinema and also for his intricate line drawings, Tilak says he began creating his new collection of tapestries only two years ago.
The oldest in the previous set dates to 1992, just after Tilak had returned from Milan. Living in Italy in the seventies and eighties, the artist says he was profoundly influenced by the radical Memphis-Milano design movement of those eras.
His work has consequently been exhibited internationally, travelling from Rome and Milan to New York and Sao Paulo. (You can see more of it on www.tilaksamarawickrema.com).
Though such events gained him wide recognition and critical acclaim, Tilak felt it imperative to break away from that style. He seems to have succeeded in doing so - his new designs are less about dramatic shapes in striking hues and rely instead on a subtle gradation of shapes and colours. They are built on streamlined geometric patterns, even as delicate variations within the figures play with the symmetry of the whole.
The shift was inspired in part by a weaver's colour swatch, says Tilak. As he has always done, Tilak works closely with the traditional weavers from Talagune on his tapestries. Hailing from a remote village in the Kandy district, their techniques of dyeing and weaving cotton have been applied to his evolving artistic vision.
Tilak first creates his tapestry designs on a computer and says he enjoys playing with the colours and tones. A physical piece is the next step. Here he works in close collaboration with the weavers – supplying them with the dye, the yarn and of course the design itself he creates– the striking, contemporary designs that have made him famous. Of his new aesthetic he says, "it resonates with various things that have happened in the Modern Art world, but it's still different."