R.K. de Silva's Early Prints of Ceylon (Sri Lanka) 1800-1900 (1985) includes a number of artists of diverse origin who strove to capture on canvas the essence of the tropical island of Ceylon. A few of these artists were academy trained professionals, but most were competent or even gifted amateurs. Some were travellers - among them members of the European aristocracy – while others were stationed in Ceylon as military personnel or government officials.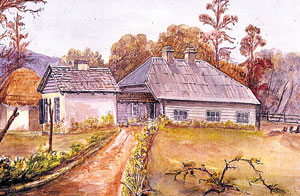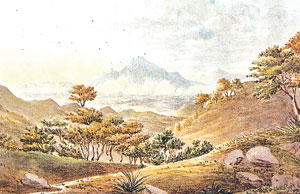 Samuel Daniell, John Deschamps, Prince Alexei Soltykoff, Prince Friedrich Wilhelm Waldemar, William Lyttleton, Count Emanuel Andrasy, Baron Eugène de Ransonnet, Captain Charles O'Brien - to name just some of these artists - all published folio-sized travelogues containing reproductions of their pictures executed in Ceylon. These views of alien landscapes, specimens of exotic fauna and flora, as well as customs of a widely different culture, were subject matter in which the Occident, in an era of expanding horizons, exhibited a great interest.
There are, however, some absent 19th century artists in de Silva's collection, including two women, the acclaimed botanical artist Marianne North, whose Ceylon paintings can be seen in a book and also in her gallery at Kew Gardens, London, and Constance Frederica Gordon-Cumming. Another is Professor Ernst Haeckel, the eminent but sometimes fraudulent German botanist and naturalist (he also coined the word "ecology" and the term "First World War") whose paintings reveal a bold use of colour and tone, and an inevitable fascination with the verdure of Ceylon.
Another German, the landscape painter Baron Hermann von Königsbrunn, executed a collection of sketches and pictures, mostly of flora. Von Königsbrunn was accompanied by Professor Schmarda of Vienna, who gave an account of his travels in the island in Voyage Round the World. Unfortunately, von Königsbrunn's drawings, intended to illustrate Schmarda's travels, were never published.
But I digress, for my purpose is to bring to the attention of readers the unpublished and therefore little-known 19th century amateur paintings of Ceylon.
Over the past year I conducted research on Nuwara Eliya for a forthcoming book and was put in touch by Royston Ellis with an English couple, Kate and Tim Spencer. They had just purchased on eBay a pair of water-colours on pocket-sized sketch book paper, both depicting, from different angles, "ADC Quarters, N. Ellia", unsigned but dated 1891, for £35 each. Unfortunately the seller, from Honiton, England, was unable to give any useful background information (one water-colour was described as having been painted by "N. Ellia"!). Tim remarks: "I believe they must have come from a portfolio of unframed items as there is no photo-degradation whatsoever."
The location of this modest yet characterful building and its annex, surrounded by trees, would most likely have been in a government compound, and as near as possible to the Governor. Therefore, it would probably have been situated behind Queen's Cottage, now President's House, which was purchased in 1873 by Governor Sir William Gregory, who described the property in his Autobiography (1892) as having "a great deal of wooded land at the back".
A further water-colour (on Whatman watermarked paper) purchased by the Spencers on eBay for £126, titled "Wilson's Plains beyond N. Ellia", has an indecipherable signature and is dated 1873. The seller was an Australian who confused Wilson's Plains with a similarly-named area in the vicinity of Brisbane. Wilson's Plains are known today as Keppetipola Plains, which are near Nuwara Eliya, so when the Spencers visited the town they showed the painting to a knowledgeable hotel employee who immediately told them that the location where the painting was executed was the entrance to the Botanical Gardens, Hakgala – and so it proved to be, with the 2,036m high Namunukula mountain in the background.
How many more unknown historically valuable paintings of 19th century Ceylon are scattered around the world?