Mahinda Karunaratne decided to celebrate his 70th birthday differently. It was on March 12 2003, on his birthday that he started his journey as a social worker to improve the economic, social and spiritual standards of the rural masses.
The Karuna Trust he initiated has come a long way since then offering solace to the impoverished –providing, shelter to homeless, attending to the welfare of orphans, offering scholarships to students, leadership training for youth, among a range of other projects.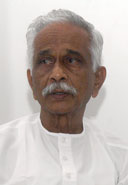 Mahinda Karunaratne: No turning back from his journey as a social worker.
Karuna Trust is the charity of Karunaratne & Sons (Pvt) Ltd, a pioneering printing venture in Sri Lanka initiated by Mr. Karunaratne some 40 years back. "After I completed school and came to Colombo for employment I did several jobs before I took to the tea business for about eight years. In 1970, I came into printing by chance and started my company Karunaratne & Sons Ltd. as a small business with just Rs. 18,000 in hand to invest in the machinery," he says adding that from there onwards he gradually developed his business.
Today the company has achieved several awards in the printing industry — the National Business Excellence Awards in 2008 and 2009 and the Best Printed Diary 2010 among many others. Mr. Karunaratne has been President of the Sri Lanka Association of Printers, President of the Sri Lanka Printer's Corporative Society and in recognition of his service to the printing industry was presented a life time award by the association last year.
But his professional achievements apart, he has not forgotten his rural roots. Hailing from the remote village of Habarakada Hiniduma, Mr. Karunaratne says he knows what it is like to live in a remote area. "I remember how I used to walk four miles and travel another eight miles in a ferry daily to get to school. That is how remote the village I lived was. I saw the hardships that children underwent and thought I would help them someday," he says.
Mr Karunaratne said he visits Galle almost every weekend and Medawachchiya at least once a month to follow up on the progress of the projects launched in these areas. He personally visits the villages before selecting the beneficiaries for various projects that are implemented with the help of Divisional Secretaries or Grama Niladaris. "Once I came across a poor family living in a small shack in Ethakada in Medawachchiya. There was a man, who was an amputee, his wife, two sons and daughter living in a small place not suitable for human habitation. We built a house for them," he said.
Through various community projects launched so far the Trust has built about 24 houses, 110 toilets, three pre-school buildings, 27 libraries, three school buildings, in addition to presenting about 1000 scholarships for deserving students to gain access to education. Two leadership training workshops have also been conducted for youth. The other development work targeting the education sector includes improving sports, accommodation and library facilities in rural schools. Mirigama Dharmapala junior school, Gaminiwewa school in Anuradapura, Mavita junior school in the foothills of the Sinharaja forest are some of the schools that have been assisted by the Trust.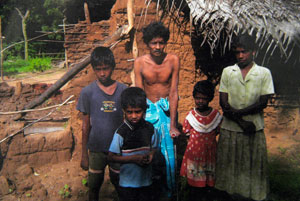 The family in Ethakada in Medawachchiya for whom the Karuna Trust built a home
In 2007, families in two pottery villages in Mihintale were given a helping hand. These potters used to make items using the manually operated wheel. They were provided electrically operated wheels to save the cost of labour and production time, he said.
The villagers show their sense of gratitude for the help they receive, Mr. Karunaratne said, adding that it is very touching that whenever he visit a project and if it happens to be lunch time he is offered a meal at almost every household.
The Karuna Trust was started with just Rs 1.5 million at the time it was launched, but today it has expanded considerably," says its founder. "When I handed over my family business to my children I requested them to contribute one percent of the net profit to this venture. The interest money is utilised for various projects," he said.
The support of Lankan expatriates, organizations and various other well-wishers have contributed immensely in initiating projects to serve the community over the years, he adds. Karuna Trust is located at No. 67, UDA Industrial Estate, Katuwana Road, Homagama. Website: www.karunalanka.org