Sri Lanka's financial sector needs to adjust itself to changing operating conditions, said the Central Bank Governor, Ajith Nivard Cabraal speaking at the Association of Professional Bankers' anniversary convention last week.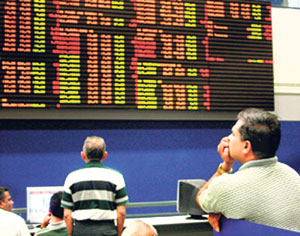 The Central Bank is expecting strong growth in Sri Lanka's services sectors, including the banking sector with government policy looking to double per capita incomes over the next five years.
"We are envisaging a per capita of around US$ 4,000 by about 2016. But the real significance of this number will be how we achieve this figure over the next five years," said Mr Cabraal.
"In achieving this we will need to see strong growth from all sectors of the economy but particularly in the services sector, including the banking sector," said Mr Cabraal. The post war growth is expected within a low inflation, low interest rate regime and banks were called on to adjust to the changing operating environment.
"Sri Lanka's average inflation was around 12% for about 33 years. Now, inflation has been brought down to manageable levels. Interest rates are also reducing. From around 22% – 25% interest rates, the rates are now around 8% - 12%. So for bankers this means you will need to take a new look at your intermediation costs. Your intermediation costs are 8%- 11% sometimes, but with interest rates reducing you will have to trim those rates," said Mr Cabraal.
The Central Bank says government plans to contain the budget deficit will see the deficit shrink to about 5% by 2012 and that eventually Sri Lanka might even see a surplus. Pressure on public debt financing is also expected to ease as the economy improves, freeing up more government resources for investments. This is expected to free-up more credit for the private sector as well.
"We have adequate space for fiscal consolidation. The deficit will be kept at 8% this year and will reduce to about 5% by 2012. Sri Lanka may even have a surplus budget someday in the future. Because of the changes in government institutions some government institutions may become profitable. The government will be paying much less interest on public debt. So this will increase space for new ventures and new projects," said Mr Cabraal.
To support growth, bank lending is expected to double over the next few years.
"Banking sector lending is around Rs 1.7 trillion now, but this will need to double by around 2015. We will see several multibillion dollar industry sectors coming up like tourism, IT and BPO services, port services and even new industries instead of just tea and garments," said Mr Cabraal.
Inflows of foreign investments and remittances are also expected to increase, which, in turn, is expected to strengthen the rupee further.
"We will see larger inflows of FDI and portfolio investments and remittances may increase from around US$ 4 billion to US$ 8 to US$ 10 billion in the next five to six years. This means generous foreign reserves and it will strengthen the rupee. So this will allow us to do more foreign business," said Mr Cabraal.
The Central Bank noted that the government will focus on developing the five areas of naval, aviation, energy, knowledge and commercial sectors including the banking sector. The government has already taken the initial steps towards providing infrastructure to develop these areas and has also provided the 'security' infrastructure for stable growth, said the Central Bank.
President of the Association of Professional Bankers, Dimantha Seneviratne, noted that the Chinese government had announced plans to develop Shanghai into a financial hub and called on the government for a proper timeline and goals to develop a regional financial hub in Sri Lanka.