RATMALANA -- The Sri Lankan branded personal computer (PC) market encompasses sales of 210,000 PCs a year, according to Shafraz Hamzadeen, Chief Executive of local computer manufacturer EZY Holdings and top computer component seller eSYS Technologies. Further, he noted that the local market features sales of 4,000 to 5,000 PCs a month, with 50% of this being absorbed by government tenders, 20% to 25% going into the corporate sector and the rest being sold to end users via distribution channels. Also revealed was that 70% of government tenders sourced branded PCs. Additionally, a focus on basics, such as use of Microsoft Word, Explorer, etc. has resulted in a halving of budgets allocated for PCs.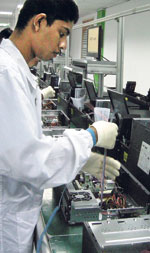 At the plant
Mr. Hamzadeen's comments were made during the Business Times' exclusive first look at EZY Holdings' ISO certified manufacturing facility in Ratmalana, also the first time any news outlet had toured the plant.
Featuring a 'clean' room type entry procedure to dispel dust and static electricity, the facility also uses bar codes to track the history of all computer components, a 'kitting' assembly line methodology where components are first grouped together and then assembled, and a lab which primarily performs climate testing. Initially manufacturing EZY's SlimTop Intel Atom-based desktop, the facility has also recently extended its capabilities to output higher end models, featuring Intel Core chips, such as the EZY SlimBook laptop and the EZY Ultimate; the latter geared more towards corporates.
According to Mr. Hamzadeen, a key differentiator of EZY branded products, when compared to locally-assembled, "white boxes", or unbranded PCs, is the pre-testing done to limit the problems faced by end users. These include a three-hour long, automated 'BurnIn' test which stimulates 24-hour, non-stop, full speed computer use as well as shaking and dropping PCs to ensure that no parts are loose to inconvenience end users - all to improve performance. In fact, he reveals many processes have been acquired due to a close relationship with Foxconn, a Taiwanese computer which is known to be an original design manufacturer for companies such as Apple and other global PC brands.
Since launching last year with the target of manufacturing 300 to 400 PCs a month, EZY now regularly produces 750 as a result of increased demand for its branded products, facilitated by 'just in time' ordering by dealers. According to Mr. Hamzadeen, this makes EZY a leading brand in the local computer hardware space.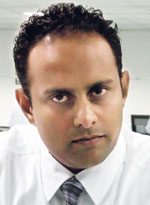 Shafraz Hamzadeen
He also revealed that while the company had targets of 3,000 units exported last year, only 2,000 were actually sold outside and this to Pakistan only. This was due to planned exports to Bangladesh not materialising because of certain import restrictions which could not be surmounted. He further indicated that this hurdle had finally been overcome this year and that exports to Bangladesh were expected soon. He also suggested that future prospects for EZY included making use of free trade agreements to export to South India, an area which currently experiences bottlenecks in terms of availability of computers; usually brought in from North India.
Additionally, he indicated there was scope for supplying CSR projects where packaging could be used to promote donor's messaging. This was the case in Indonesia where EZY is vying for a 50,000 PCs export order, to be filled in three months. If EZY gets this order, it would necessitate upping its factory's schedule and production capabilities from its current one shift to a round-the-clock operation with three shifts, ultimately requiring a total of 150 people.
This full schedule would enable the output of 210,000 PCs annually, virtually the same number as the country's total yearly personal computer requirement. Revealing EZY's future products, Mr. Hamzadeen noted that there was an even smaller desktop due soon called the SlimTop Smart. But the real game changers for EZY may well prove to be the newly launched EZY Optimax, which plans suggest will see 80% sales by corporates, and the soon-to-be-released EZY Ultimate, geared to be government-tender friendly. It is anticipated that these new products will finally open up the full market for EZY, where it previously only offered its SlimTop and SlimBook models, mainly (80%) bought up by end-users.
Further, Mr. Hamzadeen reveals that in about four months, the company will launch its EZY Extreme product which will boast a 26" LED monitor, wireless keyboard and mouse and a number of other features which will make it equivalent to a fully-fledged home entertainment system; but at roughly half the cost. Geared for gaming and entertainment of all types, this premium product will target 16 to 24 year olds.
Commenting on why the unlikely location of Sri Lanka was chosen as a place to manufacture computers, Mr. Hamzadeen indicated the country provided certain benefits associated with its geography including reduced transportation costs and time. This allowed it to compete in the South Asian region. Additionally, the scale of operations locally allowed for agility and ability to customise, such as with packaging products for CSR use. However, there was still doubt about the "Made in Sri Lanka" label and this had to be improved.
Mr. Hamzadeen also cited the success of his eSys computer components venture which, in just six short years, now supplies all the components for one in every two locally assembled computers today. Further, this already existing infrastructure has allowed EZY to shave a further 5% off the costs associated with manufacturing, a great benefit in an industry where total profit margins for PCs were very slim. Meanwhile, he also noted that eSys had been able to show "phenomenal" growth last year despite it not being a good one overall for the computer industry, suggesting this was because the company's attempts to always maintain operational expenditure at 3%.
When asked by the Business Times whether an Initial Public Offering (IPO) was in the works, Mr. Hamzadeen indicated the company was assessing all future prospects and that an IPO, while being considered, was not deemed a definite course of action as yet.