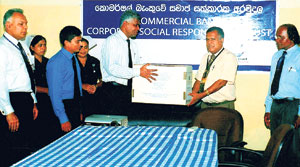 Picture shows Richard Rodrigo Co-ordinator of the Bank's CSR Trust handing over the CTG machine to Dr. Ranjith Paul - Medical Superintendent of the Kuliyapitiya Hospital at a special ceremony which included a session of training for the staff involved.
The Kuliyapitiya Branch of Commercial Bank recently donated a Cardiotocography (CTG) machine to the Obstetrics Unit of the Kuliyapitiya Base Hospital with the assistance of the Bank's CSR Trust.
A CTG machine was critically needed by this hospital to support its efforts to maintain the high standards of safe deliveries it had achieved.
A large number of pregnant mothers now obtain the use of this newly-installed CTG machine, minimizing the risk factors connected with pregnancy.
This project was co-ordinated by Dr. Wasantha Jayalath, Consultant Visiting Obstetrician & Gynaecologist of the Kuliyapitiya Base Hospital.