Sri Lanka is becoming increasingly known as a low cost alternative to western countries, and even Singapore, for providing lab services. This is especially relevant in the case of countries in South Asia, such as Pakistan, Bangladesh and the Maldives, where India is not an option and so Sri Lanka is able to fill the gap, according to Dr. A.M. Mubarak, Director of the country's Industrial Technology Institute (ITI).
As such, ITI has so far had the opportunity to calibrate 47 labs in Pakistan. Additionally, a number of South Asian, South East Asian and West African countries have also sent scientists and lab technicians and managers to train in quality and microbiology standards in Sri Lanka since 2005.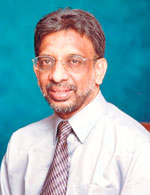 Dr. A.M. Mubarak
In fact, more than 47 trainees from countries such as those mentioned already as well as Laos, Vietnam, Cambodia, Ghana, Sierra Leone, Nigeria, Liberia and Gambia had already completed local programmes in lab quality management, microbiological analysis, etc. Additionally, many trainees had indicated a preference for ITI due to factors as diverse as better cost, greater understanding of problems associated with labs run in developing countries, and a higher level of comfort which is a result of more friendly, informal trainers who are willing to share a lot more than their western counterparts. A new batch of six trainees is also expected from West Africa this month, and usually groups such as these, this being the twelfth, are typically charged US$ 12,000 for a two-week training programme.
A statutory body tasked with the provision of lab services in the area of quality management systems, chemical, microbiological and metrology (the science of measurement) amongst others, ITI falls under the purview of Sri Lanka's Ministry of Science and Technology and earned approximately Rs. 120 million in 2008 with a consistent growth of about 10% year-on-year for the three previous years. These earning are earmarked to fund 40% of its operational expenditure, the rest of which is paid off from government coffers.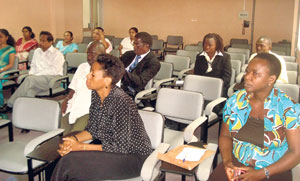 Foreign participants
Between 1996 and 2004, ITI also embarked on a US$ 2.2 million upgrade to its labs, which enabled it to get international certification in microbiology, food testing, etc. Dr. Mubarak anticipates that upgraded lab facilities will position ITI to earn more business in the future; especially since the outfit is now capable of testing a multitude of areas, such as: pesticides in food, toxic metals in seafood, antibiotics in prawns, avflotoxins in spices, etc.
He also noted that ITI is also the most convenient option for Sri Lankan companies, primarily exporters, who want to certify their products as compliant, especially in the areas of non-adulteration of food (milk, tea, etc.), WTO/EU standards, tariff considerations, labelling, etc. Areas pertaining to food testing, such as chemical metrology and microbiology, are particularly big growth sectors into the future, according to Dr. Mubarak. In fact, he revealed that ITI is currently petitioning the legislature, through its ministry, to be designated the statutory body in chemical metrology since it was the only local body that had internationally accredited local lab facilities in this field that is fundamental to food testing.
According to an ITI statement: "It is an accepted fact that developing countries have to comply with stringent quality standards if they are to compete in the global market that is increasingly discriminating towards the third world. Hence establishment of an internationally recognised laboratory quality management system is a pre-requisite if developing countries are to overcome these technical barriers for trade, particularly countries whose economy is dependent on the export of agricultural commodities and its processed forms".
Also stated was that "ITI is currently in a position to offer a range of custom made training programmes such as ISO 17025 QMS, chemical and microbiological analysis, calibration techniques, method validation and proficiency testing. It has both nationally and internationally accredited laboratories to offer on the job training in calibration of mass, temperature and length, and testing of a range of samples such as food, herbal, materials and environment".