Sometimes I think we take ourselves too seriously. Laughter is the best medicine', replied my client when I asked him what would improve the productivity of his team. His problem was not his out-of- the- box thinking in introducing play to work, but rather his fear of suggesting this to the top management, thinking that they may perceive fun at work as unacceptable.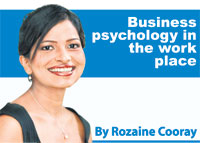 Celebrations? Play? Humour? Laughter? How do these terms mix with our management lexicon, especially in an economic era of rapid change, competition and focus on profits? Is it legitimate to have fun and enjoy ourselves 'in' what we are paid to do? Yes, of course. However, when there is a lack of person-job fit, or when our jobs involve monotonous and repetitive tasks that may not give the work satisfaction we are looking for, is it still justifiable to have fun 'while' at work? Why not?
Historically speaking, a bulk of management textbooks have over-looked 'fun at work', thereby addressing the student from a very serious standpoint. It is true that management is serious work but why can we not have a healthy dose of fun, zest and enthusiasm alongside the productivity that is expected of us? Research shows that these terms are all related. In that case, have we just suggested another key competency for a people manager: Creating a culture of fun in their work places?
Why fun at work? Studies have shown that exchange of humour acts as an antidote to job-boredom and inter-personal conflicts. It is also known to break barriers and improve employee communication, job satisfaction, employee retention and stress management. It is known to increase creativity, cohesion, morale and energy in small teams, whilst also counterbalancing the seriousness involved in many jobs. The more uncertain and speculative effects of creating a fun culture are, reduced absenteeism and turnover, and improved productivity, worker commitment and positive feelings for supervisors, peers and direct reports.
How does it work? From a motivational point of view, where do you think laughter and fun fall into popular need-based theories? Maybe it seeps into all levels of Maslow's hierarchy and act as both an intrinsic and an extrinsic factor for work motivation. From a biological point of view, laughter and fun trigger the release of a neurotransmitter called endorphins to our system that produce a general sense of well-being, whilst impacting on moods, muscle relaxation, reduction of stress and blood pressure, and the enhancement of the immune system. Thus, it is not surprising that fun impacts on the overall 'health' of the organisation.
Fun could be introduced to the workplace in different ways. Jokes are the most common and practical means of dissolving tension amongst people. Dressing for fun, fun decorations, logos and signs, fun contests, games and sports events can bring people together as teams.
What would be the reason for the resistance to create a lighter work environment? One reason could be that some of us are attached to industries based on a serious service or product delivery that require utmost focus and attention. Others are that the people who work are serious and the top management's worry over hell breaking loose, or the doubt that it would translate into an unprofessional image of the company to the customers and the outside world. Furthermore, it could also be the heavy work load that allows little or no time for jokes.
Another preventive force for fun at work may lie in the deficient skills of a manager who has no experience, knowledge, training, support or reinforcement for creating a fun work culture. Moreover, some managers may find that they have no role model to emulate in the organisation. In addition, creating such a culture would be too much of a challenge in a risk-averse work environment dominated by strict transactional leaders. The problem is not actually in their fervour to achieve the targets at any cost, but in their mindset that imply only seriousness and stringent discipline could take one there.
It is common sense that the work culture is heavily dependent on the structure of the organisation, be it cultures defined by hierarchies, market-orientation, adhocracy or family/clan spirit. However, the trick is to integrate whatever the fun activities that create a light-hearted work atmosphere in the right proportions, depending on the nature of the teams and the people. Another requirement would be to know where to draw the line and clearly communicate this to the employees, thus taking measures to safeguard the teams from heading towards chaos.
If we really give it some thought and allow ourselves to be creative, it would not be difficult to come up with some easy and inexpensive strategies that can be practised and implemented regularly at work. Come to think of it, don't you think we actually do take ourselves and life too seriously? Imagine how laughing out loud could improve the quality of the work and help maintain a balance in the work-life domain? "People rarely succeed unless they have fun in what they are doing," says Dale Carnegie. So, what do you suggest now? A hearty laugh!!!!!!
(The columnist is a Business Psychologist and could be reached at rozaine@forte.lk).