Senior Ogilvy Professionals from 21 countries across the globe including USA, Australia, Russia and South Africa gathered here this week to participate in 'Adchamps' at the Lighthouse Hotel in Galle, for the second successive year.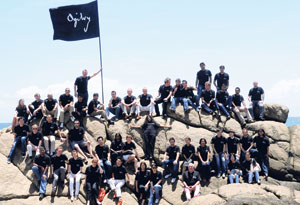 Picture shows: Senior Ogilvy Professionals from across the globe fly the Ogilvy flag at 'Adchamps 2010' in Galle; Miles Young, Global CEO of Ogilvy, Irvin Weerackody, Chairman of Phoenix Ogilvy, Paul Heath, CEO O&M Asia Pacific, and David Mayo, President O&M Asia Pacific.
'Adchamps' is an annual event where senior and promising Ogilvy stars from the region and outside, meet to acquire new learnings and to gear themselves up to face new challenges. The faculty this year was of world class quality and included Global CEO of Ogilvy, Miles Young, legendary creative guru Piyush Panday, Creative Director Asia Pacific, Deputy Regional Executive Creative Director Juggi Ramakrishnan, CEO O&M Asia Pacific Paul Heath and President O&M Asia Pacific David Mayo and Simon Clift, Ex- Worldwide Chief Marketing Officer Unilever, Colin Mitchell and Anthony Wong.
Irvin Weerackody, Chairman of Phoenix Ogilvy said "Adchamps is aimed at exposing the very latest thinking and tools to Ogilvy's most influential and senior people. The objective is that the participants return to their respective offices at the end, invigorated and enthused, as a Fusion Ambassador - where only great work will follow."
Phoenix Ogilvy's Sundesh Sundara Moorthi, Shani Karunarathne and Sidath Roy participated from Sri Lanka. Adchamps has been designed as a challenging learning experience, a recognition and reward for the people who are critical to Ogilvy's future. By exposing the Champs to new Ogilvy thinking, habits and approaches to business, the programme hopes to forge a sense of pride in the participants, according yto a statement issued by Ogilvy.