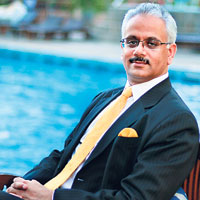 Rohit Khosla
The Taj Group recently appointed Rohit Khosla as its new Area Director for Taj Hotels in Sri Lanka.
Excited to be in Sri Lanka with the country poised for a new deveopment phase at the end of the war, Mr Khosla said: "With the war clearly over and replaced with the euphoria of the islands great tourism potential, there couldn't a better place to be than Sri Lanka at this point of time. The industry will experience unprecedented growth".
The challenge now, he believes is to make a significant impact on existing standards in the industry – standards he is certain can be developed into global hospitality benchmarks. Mr Khosla has over 22 years of experience including other global hotel chains and in the last decade with the Taj Group.
"Sri Lanka's palm fringed beaches, treasured heritage, exotic landscape and wildlife are not the only traits she is known for – it is her warm and gracious people that keep our travellers returning," he said.
To date, the Taj Group remains the only international chain with three properties in the island -- Taj Samudra, Colombo; Taj Exotica, Bentota and Taj Airport Garden, Seeduwa. Taj Asia Ltd also operates two properties in the Maldive Islands – the award winning Taj Exotica, Maldives and recently refurbished Vivanta by Taj, Coral Reef.