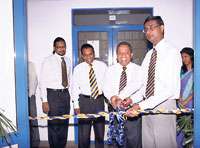 The Royalists have done it again in terms of innovation, with yet another 'first'. The first ever Audio, Video and Print Studio at school level was declared open on July 16 2010, at the Royal College Skills Centre.
The Studio named 'RCU Studio' consists of state-of-the-art facilities on par with the best in the industry. An Audio Studio consisting of a control room and auditorium, (usually referred to as a Sound Booth) can undertake voice recordings, instrument recordings, and will be open to commercial undertakings in the near future.
The Video editing studio can undertake desktop publishing. Print facilities are also available for both studios. The strategic location of the RCU Studio in the heart of Colombo will be a factor of convenience for those in need of the facilities on offer.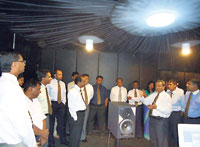 The Studio is the brainchild of the Royal College Union, and has an aura of sophistication with plush interior furnishings, and has been executed to precision planning. The concept and design of the studio was done by a professional in the film industry, Mr. Pravin Jayaratne, who with his team built the studio in just 60 days, which speaks volumes for the ingenuity, talent and passion of the team involved.
The Principal of Royal College, Mr. Upali Gunasekera commended the efforts taken in giving the young Royalists yet another modern facility in which to learn and compete in a business world.
The Secretary of the Royal College Union, Mr. Rizan Nazeer was extremely enthused about the project from the outset, and commended the time effective and cost effective efforts. The RCU Studio was made possible by the generous contribution of Mr. Dhammika Gunasekera, and the Loyalty Pledge Management Committee, which has come forward during the 175th Anniversary year with sponsorships that champion enterprise and innovation.
Mr. Pravin Jayaratne, an old Royalist, who has the requisite expertise in the film industry will add the necessary impetus to the project in terms of its continuity and maintenance, plus the training of the students from Royal College. He is happy with the outcome, and humbly states that the RCU Studio is a 'gift' for the future generation of Royalists. Thus the RCU Studio is symbolic of the Loyalty Pledge in action!
It is envisioned that the RCU Studio will train and equip young Royalists and champion budding talent from Sri Lanka at large to learn the 'nitty-gritty' of audio, video productions on a competitive multi-media platform.
Sharlene De Chickera, Career Services Manager/LPMC.