Unilever Sri Lanka has invested Rs.3 million to renovate 20 wells in the Vavuniya district, said a press release from the company. The wells were restored by the villagers themselves, with Unilever providing material, machinery and financial support. Two renovated wells were handed over to the village of Kokeliya in June and 18 more wells will be renovated and restored to several villages in the Vavuniya district, said the company.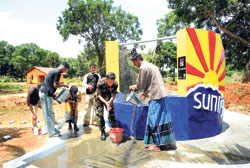 In another project, Surf Excel, a Unilever brand, is developing eight schools in the Mannar and Vavuniya districts at a cost of Rs. 5.5 million. The company also provided these schools with much needed facilities such as playgrounds, access to clean water, art rooms and other amenities. The new facilities were officially handed over to the school authorities in a ceremony held in the first week of June.
Unilever's baby care brand, Pears, with the Sri Lanka College of Pediatricians, renovated the pediatric wards of the Cheddikulam and Vavuniya hospitals at a total cost of Rs. 5.4 million. The refurbished hospitals were handed over to hospital authorities in May this year, said Unilever.