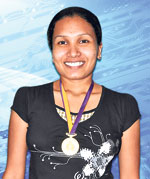 Picture shows Madurika Welivita with the Virtusa Academic Excellence Award
Virtusan Madurika Welivita, an Associate Engineer Technology, received the Virtusa Academic Excellence Award for the best academic performance in the Bachelor of Science in Computer Science Degree Program of the University of Colombo School of Computing (UCSC).
The Virtusa Academic Excellence award is an annual award presented to students displaying exceptional academic performance across a number of leading universities in Sri Lanka.
Approximately 180 students graduated from both degree programmes.