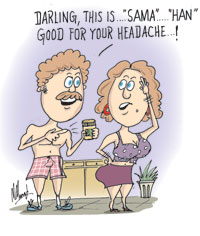 Link Samahan, a commonly-sought remedy for colds, catarrh and other common upper respiratory viral infections, prepared only with herbal raw material, dazzles in the Ayurvedic products export market with more than 35 million sachets exported annually to a number of countries in the world. It is the leader in the local market for that range of product.
This week Link Natural Products (Pvt) Ltd, the makers of Samahan, celebrated its 15 years of existence, with Dr Devapriya Nugawela, Chairman, Link Natural Products saying the celebrations were also appropriate because the company got the approval of the Canadian Government to export Samahan to that country.
Dr Nugawela told the Business Times that they are now exporting to countries like USA, India, Malaysia, Singapore, the Middle East and Latvia, and the product is available for sale in several other countries with Canada added to that ever growing list. He said that the spiraling demand for this unique product is all because of its healing power and the understanding that the product base is pure herbal.
He said that they are taking stringent measures to ensure quality consistency while continuous research is carried on to enhance the healing power of this Ayurvedic product. He said that they are maintaining the highest quality consistency to uphold the consumer confidence and their ever growing loyalty.
He said that it is very difficult to penetrate markets like the USA and Canada and that they took two years to obtain the approval of Canadian authorities. The success in penetrating to those markets have paved the way for the company to get approval from other countries.
Dr Nugawela said that they are carrying on negotiations with several other countries such as the European Union and Japan and, their penetration to markets like USA and Canada would enable them to obtain approval from the EU and Japan very soon.
Prof Colvin Goonaratna, former Chairman, State Pharmaceuticals Corporation said that he was able to categorically assure that Link Samahan was entirely herbal and contained no western medicinal drugs. He said that the efficacy of Link Samahan is related to its very special formulation and its property of enhancing the body's natural immune system when taken regularly.