Sustainable business, the topic for the 2nd Certified Management Accountants (CMA) Global Management Accounting Summit 2010 in Colombo this week, served to highlight how climate change has become a defining issue in this era.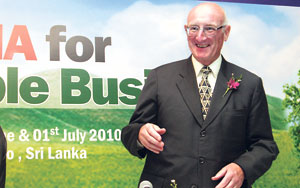 Roger M. Tabor , Chairman , Professional Accountants in Business (PAIB)- IFAC
The Institute of Certified Management Accountants (ICMA) Sri Lanka which celebrated its 10th anniversary this year, said sustainable business has great relevance to the government and business sector which is changing the business culture and society. Speaking at the inaugural session, President of the South Asian Federation of Accountants (SAFA) Komal Chitracar said sustainable development is a complex challenge between business demands, preserving the environment and social stability. He said it also requires sound management principals to be applied to resources.
Sustainable business is conducted by an enterprise that has no negative impact on the global or local environment, community, society or economy. Often sustainable businesses have progressive environmental and human rights policies. Businesses are described as 'green' if it incorporates principles of sustainability into each of its business decisions and supplies environmentally friendly products or services that replaces the demand for non-green products or services.
They also need to make an enduring commitment to environmental principles in their business operations. Special guest at the inauguration, Secretary to the Ministry of Corporate Affairs from the Government of India R. Bandyopadhyay said the recent British Petroleum oil spill in the Gulf of Mexico is the latest catastrophe to show how communities are affectd by corporate actions.
Local and foreign leading speakers were invited to address the Summit from the UK, US, Canada, Australia, Singapore, India, Pakistan, Bangladesh and Nepal. CMA Sri Lanka President Lakshman Watawala said 2009 was a historic year as CMA was incorporated by an act of Parliament in Sri Lanka and the Institute of Chartered Accountants of Sri Lanka (ICASL) celebrated its 50th anniversary.