Sri Lanka's leading large format retail stores, Arpico Supercentre, was recently honoured by Brand Finance when it was selected as one of the country's top 50 most valuable brands. "By securing an AA rating, Arpico Supercentre has demonstrated to its stakeholders that its future is bright," the company said in a statement.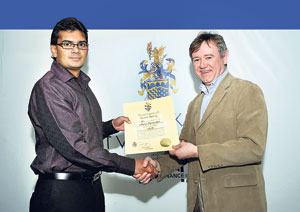 Picture shows -- Pravir Samarasinghe - Chief Operating Officer Richard Pieris and Company PLC and David Haigh CEO Brand Finance PLC – UK (right)
The brand ratings, which appeared in the most recent edition of the Brands Annual publish by Brand Finance Ltd are a yearly assessment of the country's brand landscape. A brand rating, which is similar to a company credit rating, gives investors guidance as to a brand's future outlook and its ability to attract future revenues. Based on a combination of publicly available data and market research, the rating measures a brand's performance in a range of categories, including market share, growth, and brand awareness.
Commenting on the brand's success, Director / Chief Operating Officer of Richard Pieris Group, Pravir Samarasinghe noted that "the company was very happy to be awarded with this coveted recognition and that we owe our strength to the thousands of shoppers who believe in Arpico Supercentre's unbeatable choice, service, quality, and affordability."