Dozens of disgruntled depositors of the failed Golden Key (GK) credit card company staged a massive protest at R. A. de Mel Mawatha (near the HSBC junction) in Colombo, on Friday demanding the authorities to mete out justice for them by expediting the repayment of their hard earned savings deposited in the company.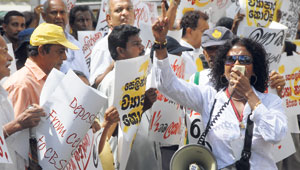 They marched towards the residence of Ceylinco Chief Lalith Kotelawala in a procession led by traditional tom-tom beaters carrying two coffins as a symbol of their plight. Angry depositors set fire to one of the coffins opposite the residence of Mr Kotelawala after their protest demonstration.
GK depositors claim that the authorities have undervalued assets belonging to the Ceylinco chairman thus depriving them of their hard-earned savings. The disposal of such assets will not raise the expected amounts, depositors alleged. They said that it will push them into further difficulty.
President of the GK Depositors Association Anusha Emmert told the Business Times that the authorities have failed to find redress to their economic problems even after 19 months of the GK crisis.
Over 9200 depositors are languishing and are unable to meet their day-to-day needs after being deprived of their savings and have no other source of income. Depositors have so far been given only Rs.100, 000, even though the majority of them have deposited millions with GK. She noted that some of the properties have been deliberately undervalued in a bid to deny the real value being channeled to depositors.