Heritance Kandalama, Sri Lanka's most awarded hotel, was rated as the Best 5-Star Resort in the island for the third consecutive year at the recent Presidential Awards for Travel and Tourism in Colombo, the owning company, Aitken Spence said in a press release.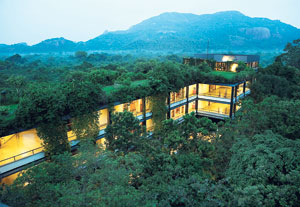 "We are delighted that Heritance Kandalama has for the third consecutive year been recognized by the Presidential Awards for Travel and Tourism. Being recognised as the country's best is a humbling feat, which has invigorated our commitment of delivering exceptional experiences to our guests," said Jeevaka Weerakone, General Manager, Heritance Kandalama.
Heritance Kandalama is positioned regally by the placid waters of the Kandalama tank; it surveys the rich wildlife that visits its precincts. Located amidst verdant jungle, calm waters and rocky mountains, it offers a holiday where one can wake up to bird calls, stunning vistas, profuse foliage and absoMalin Hapugoda, Managing Director, Aitken Spence Hotels, said winning the award for the third consecutive year is another endorsement of the company's commitment towards maintaining a high standard of service at its hotels.
The company's premier resorts operate under Heritance Hotels & Resorts. Its latest Heritance property in India will be Heritance Cochin, opening in 2011.