Hiran Cooray, Chairman – Jetwing made travel history when he was ceremoniously inducted as Chairman of Pacific Asia Travel Association (PATA), the first Sri Lankan to be appointed to this position
PATA, the regions most representative tourism body has 900 direct members from the tourism industry, plus other tourist organisations as well as nearly 8000 local members from 40 world wide PATA country chapters. This includes the US, Europe, the Middle East and Asia Pacific.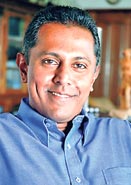 Hiran Cooray
Under the new By Laws of PATA, Hiran will also be the first Chairman who will serve a two year term. Being in the industry for a period nearing twenty years from a young age, at 46 years, Hiran becomes the youngest to hold this prestigious position.
Hiran joined the officialdom of PATA first in 1996 when he was elected to the Industry Council followed by a presence in the Executive Board in 1998 with positions of Secretary/Treasurer and Vice-Chairman, prior to Chairmanship. Previously he served as PATA Sri Lankan Chapter Chairman as well.
"The leadership role in PATA reflected the fact that Sri Lankan could be a force to reckon with in the global tourism arena. On behalf of Sri Lanka, I am proud, privileged and honoured by the responsibility cast on me' Hiran said accepting the post.
Largely encouraged by the historic peaceful time in post war Sri Lanka, Hiran plans to push the theme Peace and Tourism, as well as infuse the dynamism of youth to PATA.
'The Pacific Asia market is driving global tourism in general. Both as an inbound and outbound destination, the Pacific Asia region faces many challenges and also encounters immense potential. The bouyance of the region as well as a responsive PATA membership will be leveraged to add greater value and further develop the tourism industry,' he added.
Addressing the membership at the meeting, following his appointment Hiran said 'After protracted conflict, the benefits of the peace dividend are being enjoyed by my country Sri Lanka at present, and I would like to see greater peace within the region so that tourism can boost socio-economic growth in our economies. Whilst peace is the key driver to boost tourism, I believe that tourism can be a great catalyst to achieve peace and prosperity as well'.