Bennet Ratnayake's latest film 'Ira Handa Yata' (Beneath the Sun and Moon) was premiered at 23rd Singapore International Film Festival, in Singapore recently.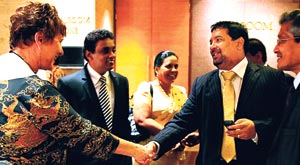 Bennet and Prasanna at SIFF
The film was also nominated for the Silver Screen award and listed among the Best 12 films produced in the year 2009. Along with 'Ira Handa Yata', Prasanna Vithanage's 'Akasa Kusum' which represented Sri Lanka was also nominated at the festival.
'Ira Handa Yata' was also nominated for Best Performance while 'Akasa Kusum' was nominated for the Best Cinematography for M. D. Mahindapala.
The Silver Screen Award at the 23rd Singapore Film Festival was won by 'Sex Voluntee' directed by South Korean filmmaker Cho Kyeong Duk. The film reveals the story of a disabled youth who makes a confession to a monk and a girl who volunteers to have an intimate relationship out of sympathy.
Bennet directed 'Ira Handa Yata' following his two successful directorial ventures 'Aswesuma' (Compensation) and 'Sulanga' (Wind). 'Ira Handa Yata' conveys the important message to all humanity that the rays of the sun and the moon are common to all human beings despite all racial, religious and ethnic differences and that we are all equal parts of this nature.
The film set during the war from 1994 to 2004 revolves around two soldiers who were captured by the LTTE. The film shows the confession of one soldier who regrets thinking that he was responsible for the death his colleague.
The big cast include Mahendra Perera, Palitha Silva, Chandani Seneviratne, Roger Seneviratne, Kaushalya Fernando, Damitha Abyratne, Bimal Jayakody, Udara Rathnayake, Saumya Liyanage, Swineetha Weerasinghe, Veena Jayakody, Jagath Benaragama, Suminda Sirisena, Rangana Premaratne, Ajith Lokuge, Bennete Rathnayke, Sathischandra Edirisinghe, Kumara Thirimadura, Baghya Rathnayake, Nadaraja Sivam, Samanmalee Hewamanne, Dee. Ga. Somapala, Sampath Jayaweera, Darshan Dharmaraj together with new comers Sheryl Becker and Dharshani Tasha.
Jointly scripted by Bennet Rathnayake and Sarath Gamlath, the film is produced by Samanmalee Hewamanne, Oliver Fernando, Ruwan Jayasinghe, Vijitha Herath (UK) and Dilan Fernando.
The film was shot in Thoppigala and other locations in and around Batticaloa, Welikanda, Kalpitya, Udapppuwa and Dambulla.