Ever since he was eight years old and gifted a camera by his uncle, Asif Jiffry became the family photographer. Soon he was nicknamed 'the Japanese tourist' by his friends for he always had a camera with him and could never stop clicking.
Now it seems Asif's photographs are reaching a wider audience as his work will be on permanent display at the Pedlar Inn Gallery in the mellow setting of the Galle Fort.
Asif's family comes from the Fort and so when this talented young photographer was invited to have a permanent display of his work, he was happy to do so in a place that holds his earliest fond memories and has been a source of such inspiration in his later years.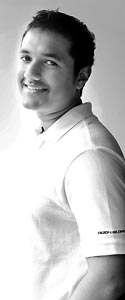 Asif Jiffry
"From the time I was a child I used to love going back to Galle. I usually do have exhibitions every year at the Barefoot Gallery in Colombo but I exhibited in Galle for the first time at the inaugural Galle art trail and then at the Galle Literary Festival," he says.
The new gallery is located at the Fort's famous Pedlar Street which is home to the popular Pedlar Street Café. The "Pedlar's Inn Gallery" will now be one more reason for visitors to head there to see Asif's work. "Pedlar's Street is a hot spot for many tourists as they all visit Pedlar's cafe to relax. It is owned by Azeez, a young entrepreneur who invited me to exhibit my photographs and frames at his new venture the 'Pedlar's Inn Gallery'," Asif explains
Asif's passion for travel and eye for distinct architecture have resulted in a collection of eclectic images from all parts of the world. Images of Sri Lanka, some familiar yet different when seen through Asif's lens and striking shots from other countries are bound to draw the viewer - a candid moment of spiritual respect, a walk through the corridors of an ancient palace, the colourful contrast of tropical fruits, an abstract of the famous Sandakada- pahana, an ancient Buddhist temple, the hard labour of a street vendor - some 50 images up at present.
Antique frames provide an interesting setting for Asif's work and these are talking points as well for he has used window frames- some over 100 years old, and even frames made out of railway sleepers, in addition to the solid wood frames, made of old mahogany and teak wooden beams crafted by skilled carpenters. Obtaining these may be as challenging as capturing a rare image. "Yes, it is very difficult to get railway sleepers as they are so much in demand...and the process takes around 2-3 months at times," he confesses.
The gallery also sells prints, with prices ranging from Rs 3,000-7,500 depending on the size, while framed photographs could go from Rs.3,750-25000.
Asif finds that tourists are drawn to the traditional local images, and Sri Lankans to the colourful European pictures of cosy streets in Paris, Venice and Vienna, places he loves that he began visiting while studying in London.
| | |
| --- | --- |
| | |
| Banana man | Streets of Paris |
| | |
| Sandakadapahana | Venice |
After grad school in UK he took a year off to travel and his trips to far-flung locations resulted in an ever-growing library of his adventures. "In 2004 I built a personal virtual gallery on the internet to share with family and friends and was surprised when I received my first request for a print from a complete stranger who had happened upon my web site," he says.
A marketing professional holding an MBA, Asif works in a leading multinational, but nevertheless finds time to indulge in his two grand passions –travel and photography. "Travel broadens one's view of the world. Experiencing other cultures, meeting people from other countries and seeing the beauty, and sometimes ugliness of the world has helped me understand that all of our lives are at once interconnected and individual.
"I view the art of photography as a subtractive process, a distilling of reality into a personal vision. As such I often use the tools of modern photography – different film stocks, filters, digital enhancement – to try to capture in an image the emotions I felt at the moment I tripped the camera's shutter.
Through my photography I seek to document my own personal experiences, to capture scenes and events as I see them and to share with others the beauty and diversity of the world I've seen. As the images of other photographers have inspired me to explore the world, I hope my own contributions will inspire others to do the same," he says.