The cupcake craze seems to have taken over Colombo with a number of options being open up to foodies who like to indulge in a sweet treat of soft cake and yummy buttery frosting!
'Mon Gateaux' which opened in March this year, is tucked away on the ground floor of the Keells and HSBC building in Kohuwala.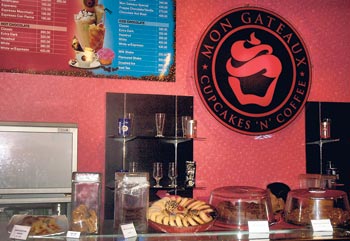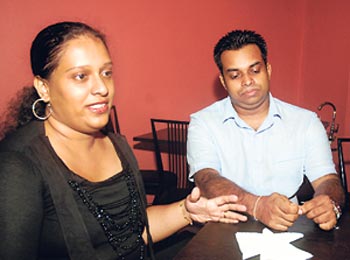 Shyama and Janaka Dissanayake
Owners Shyama and Janaka Dissanayake said they chose Kohuwala to open their shop, since the surrounding food outlets and supermarket made it an ideal location.
It's Shyama's cupcake creations that colourfully adorn the display as you walk into the store. "I used to bake cupcakes at home and take orders for offices and friends," she says, adding "Baking has always been a hobby of mine.
She also went on to explain that there was a demand for her treats as the fact that there was no real cupcake and coffee store in town, these factors resulted in the opening of Mon Gateaux. She has tried and tested her various cupcakes and says she constantly tries out new recipes and perfects them before putting them up for sale.
'Mon Gateaux' has a range of 18 flavours of cupcakes of which the strawberry, chocolate chip, hazelnut and white chocolate chip flavours seem to be among the best selling. Among the other sweet treats available are cheesecakes which are also made by Shyama, among which the blueberry and chocolate cheesecakes are most popular.
They also have muffins, cookies, doughnuts and cakes among the sweet goodies. And to go with these delights are the option of Lavazza or Illy coffee. However, if you don't quite have a sweet tooth there are a number of savoury options from pastries to open buns and sandwiches to submarines as well as meals like pasta, lasagne as well as grilled chicken, lamb and fish.
For those concerned about calories they have a low-carbohydrate option in terms of their grilled dishes which are made using olive oil and mixed vegetables such as cauliflower, bell peppers and broccoli served with the option of brown or white bread and a soup.
You don't have to dig deep into your wallet to enjoy something at Mon Gateaux which is open seven days of the week between 8am and 9pm and they deliver within Colombo as well.