Award winning director Janaka Suranjith's newest teleplay 'Eberthu Etha' (Vacancies Exist), a plight of younger generation who are trying to grab a degree without any future aim is the latest teledrama telecast every Sunday at 8.30 pm on Rupavahini starting from today.
Based on the timely issue of unemployed graduates, the teledrama depicts the triumphant journey of a young man who overcomes all odds.
Migara Abeyratne is a jobless graduate. Both his parents are retired principals and he had an elder sister who had not entered into wedlock. The parents are worried about the unmarried daughter and the graduate son without a job. But Migara is a determined young man who is ready to do anything as a job without depending on his degree. Due to this attitude, Migara becomes the laughing stock of traditional society.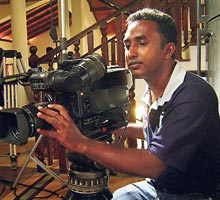 Director Janaka Suranjith
This thirty episode teledrama analyses the serious issue of jobless graduates in depth. "In the job market today Sri Lankan graduates are being ignored. Main reason for this is that the university education is not targeted on the job market," said director Janaka Suranjith, describing his teledrama.
'On the other hand this problem has worsened due to the narrow minded attitudes of Sri Lankan graduates. As a result their sole aim is to get into the public sector and they were forced to beg and fight for a white collar job,' Suranjith said.
'Eberthu Etha', a guideline to all graduates in Sri Lanka is an exemption to the stereotype teledrama culture. The teledrama is played by a star-studded cast including Roshan Ravindra, Oshadhi Hewamadduma, Suraj Mapa, Suminda Sirisena, Sathischandra Edirisinghe, Madani Malwatta, Grace Tennakone, Buddadasa Vithanarachchi, Wasantha Kumarasiri, Anuruddhika Padukkage, Padmini Divithurugama, Sanath K. Wimalasiri, Gamini Hettiarachchi, Menike Attanayake, Daya Alwis and Maureen Charuni.
Starting as a trainee Producer at Rupavahini., Janaka Suranjith ventured into direction with his one-episode teldrama Thilakasirige Wickremaya' in 1997. His maiden feature teledrma was 'Vishwa Gamana' in 2000 and his second teledrama 'Wasantha Kusalanaya' in 2005 was a milestone in Suranjith's life as it won a number of awards at all tele-award festivals.
His third major direction with director Susiran de Silva was 'Isuru Bhawana'. With 100 episodes it is the first teledrama that was telecast daily. 'Eberthu Etha' is Suranjith's fourth teledrama direction.
The technical crew of 'Eberthu Etha' include Athula Ravindra as cameraman, G. D. Nandasena as make up artiste, Jagath Weeratunga as editor and Chithrasena de Silva as art director.