The Awards Committee of the 11th Annual Convention on Leadership has unanimously decided to confer the Asian Grid Leadership Award for Excellence in Entrepreneurship to Dr. Kithsiri Edirisinghe. This award is sponsored by Grid Consultants Pvt. Ltd; pioneers of leadership training in India.
Dr. Kithsiri Edirisinghe obtained his M.B.B.S. Degree from North Colombo Medical College and moved on to obtaining a Masters Degree (MSc) in Medical Administration and a Doctor of Medicine (MD) in Medical Administration from the University of Colombo. He has obtained certificates in Health Research for Medical Officers and in Poverty and Health Outcomes from the World Bank.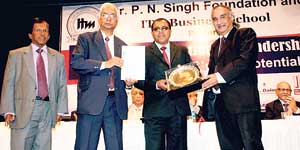 He began his career as the Medical Officer In-Charge, attached to the Peripheral Unit , Balangoda , which was selected as the "Most Innovative Hospital" of the province in 1996 under his purview. Furthermore, new surgical and medical units were constructed entirely through community participation. His next appointment was as the Medical Officer at the Base Hospital, Balangoda. During his tenure he planned and established a new minor Operation Theatre and institutionalized a Disaster Management Team and Critical Care Centre. He then joined the North Colombo Teaching Hospital Ragama as the Deputy Director.
Dr. Edirisinghe was employed as the Chief Executive Officer of Hemas Hospiatls (Pvt) Ltd; where his responsibility included Project Conceptualization, Feasibility, Project Financing, Implementation of a Chain of Multi-specialty Hospitals and Medical Clinics. His achievements during this period includes establishment of the first hospital according to Joint Commission International (JCI) standards in Sri Lanka, making the Hemas Hospital Project viable by reduction of the estimated project cost of Wattala hospital by US$ 0.5 Million. This hospital won the national construction award as the "Best Building Project 2009". He further designed a 50 bed cost-effective hospital in Galle, the Hemas - Southern Hospital where regiform panels were used to build the hospital.
He also pioneered the establishment of a Healthcare professional training institute, the International Institute of Health Sciences, where he built a training facility adhering to green standards using containers.
Currently this facility trains Nurses , Pharmacists, physiotherapists and Hospital Administrators to international standards. This facility is affiliated to Edith Cowan University, TAFE South Australia and Open University Malaysia to award diploma and degree programmes.
Dr. Edirisinghe also acts as the Managing Director of Green Healthcare (Pvt) Ltd. The main areas of operation are the conceptualization and implementation of hospital and healthcare service centre projects.
The main achievements for the last financial year includes the completion of the project planning for a project to upgrade fifty Medical Laboratory units in Sri Lanka and obtaining the lead consultancy for a project to rehabilitate hospitals affected by Civil war. His innovation was currently seen through his conceptualization of a completely Green Hospital project which is totally environmentally friendly.
This award was conferred to Dr. Edirisinghe in Mumbai on November 20, 2009 in honour of his outstanding entrepreneurial skills in the field of Medicine and Healthcare.