Students from the Jaffna peninsula this year had an opportunity to experience the entire gamut of emotions of the CIMA Spellmaster with a full fledged team from Colombo making their way to Jaffna to conduct the competition.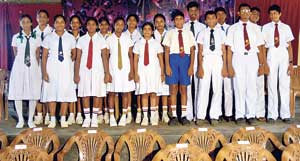 Last year although 5 competitors entered the finals and 2 of them ended in the top ten, the competition in Jaffna had to be outsourced to the University of Jaffna who willing obliged to conduct the competition on behalf of CIMA. The much awaited competition took place at the Jaffna College Undergraduate Department with over 30 schools entering from the district. Given the wide interest two competitions were conducted to accommodate the 150 participants.
Based on the number of entries from Jaffna the number who would qualify for the quarter finals stood at 33 of which 17 qualified from the competition held in the morning. There was much excitement towards the end when it came down to the "Best of 3", where 2 contestants, Sumitha S of Vembadi Girls' High School and N Saranja of Jaffna College, were given 3 words each and had to battle it out for 1 more place at the quarter finals.
Both competitors got the 1st word given to them correct and the subsequent word wrong, nevertheless, N Saranja misspelt the word 'elocution' which gave Sumitha S the upper-hand and she spelt the word 'bruise' spot on, making her the 3rd student from Vembadi Girls' High School to qualify for the quarter finals. Other schools that did exceptionally well were; Chundikuli Girls' College, Jaffna College and Uduvil Girls' College, as 3 students from each school qualified. Vigneswara College had four students from the school sailing through to the quarter finals.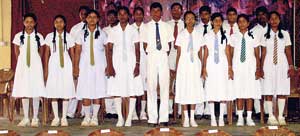 In the second competition held in the afternoon, surprisingly all 16 competitors emerged with success as the 1st round of words ended, automatically qualifying them. Vadamaradchy Central Ladies' College outshined, with 4 contestants from the school succeeding. Vadamaradchy Hindu Girls' College, Hartley College, St.John's College, and St.Patrick's College, all did well. Two contestants who took part last year and were within the top 10 finalists, found themselves qualifying for the quarter finals this year as well, namely, B Kapilan of Hartley College and Gaajathry Manoharan of Udupiddy Girls' College.
The following are the names of the qualifying students and their respective schools;
J Laxshi Chundikuli Girls' College
C Sangeetha Chundikuli Girls' College
S Mathudramy Chundikuli Girls' College
S Kishore Jaffna College
M A P Sathurvethan Jaffna College
S Sajeevan Jaffna College
V Mugunthan Nelliady Madhya Maha Vidyalaya
Benick Roshna Jesuthasan Uduvil Girls' College
Inthuka Sriskantharajah Uduvil Girls' College
Saambavi Sivaji Uduvil Girls' College
Sumitha Sivasubramaniyam Vembadi Girls' High School
Jenosha Ignatius Vembadi Girls' High School
Ghobika Raveendran Vembadi Girls' High School
A Rajharan Vigneswara College
B Saranya Vigneswara College
T Kajaharan Vigneswara College
B Sumanthan Vigneswara College
B Kapilan Hartley College
N Yanarthanan Hartley College
Kalina Sivarajah Methodist Girls' High School
Solomon Rajaram Hariharan St.John's College
Mathyamuthan John Priyanth St.John's College
Mahalingam John Xaviour St.Patrick's College
S Chelvaniththilan St.Patrick's College
K Senthuran Udupiddy American Mission College
Gaajathry Manoharan Udupiddy Girls' College
Usshanthi Pulenthiraraj Vadamaradchy Central Ladies' College
Thusyanthy Kanesakumar Vadamaradchy Central Ladies' College
Thenuja Nagendran Vadamaradchy Central Ladies' College
Sivapriya Varatharasa Vadamaradchy Central Ladies' College
Tharshiga Selvarajah Vadamaradchy Hindu Girls' College
Janani Pathmanathan Vadamaradchy Hindu Girls' College
Missiyana Sinnarasa Vadamaradchy Hindu Girls' College
The 33 competitors representing Jaffna at the quarter finals consisting of 500 students all island will now have to fight it out amongst themselves at a provincial level where only 12 spellers will be selected to go into the semi final of 100 spellers.
The CIMA Spellmaster Season two is organized by CIMA with the electronic media sponsors being Sirasa TV and the print media sponsors, the Sunday Education Times, Daily Mirror and the Thinakural newspapers.