WISDOM TRAINER INTERNATIONAL the pioneer who brought about the Personality Training Field in Sri Lanka launched "SALES HEROES" a unique Sales Force Training Programme, a few months ago, with a view to train the sales people of any company to give them intensive training on almost every aspect that a sales person should reasonably know.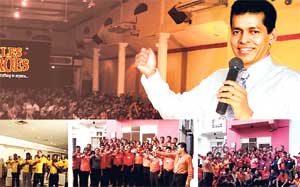 Some of the participants of the Sales Heroes programme held during 2009 with Master Trainer Dr.Kuma Iddamallena
During the last 6 months after the launch of the programme more than one thousand participants have gone through the Sales Heroes training and become certified Sales Heroes. Both public sector & private sector organizations have conducted the program and claimed outstanding success in achieving sales targets by the sales teams immediately after the programme.
Dr.Kuma Iddamallena who initiated the Personality Training Field in the country says that Sales Heroes is a complete practical activity oriented SFT programme which will completely change the sales person into a courageous and confident selling personality.
"Today the question is not how to sell but how to sell better than any other person and how to remain in the market until the right time comes" says Master Trainer Kuma Iddamallena and he further says that Sales Heroes is the ideal programme to face this challenge.
Attitude Training, Motivation & Morale Boosting, Meeting the customer, Building Rapport with the customer, opening the sales conversation, Objections Handling, right Questions to ask and answer, Closing the sale, after sales behaviour and overall sales person's personality are some of the key areas practised.
Master Trainer Kuma Iddamallena has been teaching and training over 3 million people here & overseas for 24 years. Money, Business & You -MBY, Highlight Leaders - Business Leaders Training Club, Money Secrets, Business Secrets are special programmes he has created to support the business community in Sri Lanka. Dr. Kuma Iddamallena is a specialist in Personality Training, Neuro Linguistic Programming (NLP) & Master Trainer of Mind Muscle Vibration Therapy (MMVT). He has attended Train the Trainer programmes in Sales & Business Enhancement Training in Australia, Austria & America. He is a Certified Sales Leadership Trainer (U.S.A).
Managing Director of Tiljay Computer Forms (Pvt) Ltd, Mr. Aruna Tillekeratne who attended the Sales Heroes programme last week strongly recommended it as follows:
"After participating the "Sales Heroes" program my Sales Executives had remarkable motivation and many new approaches in their selling behaviour. I noticed a tremendous growth in the sales department within the first week itself. This program is suitable not only for the sales executives but also for the top management. When the leaders know the process they can guide their followers to achieve their sales targets easily. "
One Insurance Manager who participated in the programme said that he achieved his monthly sales targets within one week after the Sales Heroes program.
Any person who wishes to be a selling expert should attend Sales Heroes to complete a six months selling course just in two days. Although it is two days, the participants will go through comprehensive 12 hours practical training on each day. All participants who successfully complete the program passing the final assessment will be recognized as a certified "Sales Hero" and receive a valid certificate to that effect.
Next Sales Heroes program is scheduled to be held on January 9 & 10 2010.