The Institute of Chartered Accountants of Sri Lanka (ICASL) organized a felicitation ceremony to honour employees who had completed 25 years of service at the Cinnamon Grand recently.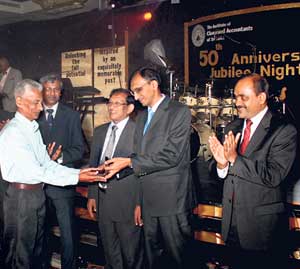 Left to right: Aruna Alwis CEO of ICASL, Nishan Fernando President, Lal Nanayakkara Chairman Jubilee Celebration Committee, Sujeewa Mudalige Vice President, Sujeewa Rajapaksha Alternate Chairman Jubilee Celebration Committee with H.W. Gunaratne ex- employee of ICASL.
Thirteen retired employees and fifteen others still employed at the ICASL were felicitated. It was organized by the ICASL to recognize their valuable services for the betterment of the institute. "The sweat and blood of these employees helped the institute to attain its present heights. Hence, it is our responsibility to respect them" ICASL, President, Nishan Fernando said.
"We organized the felicitation ceremony to mark the 50th anniversary of ICASL. As part of the celebration, the council of ICASL decided that these employees are felicitated in a fitting manner. They have been invaluable assets to our institute for the past 25 years," said, Chairman, Golden Jubilee Celebration Committee of ICASL Lal Nanayakkara on the occasion.
ICASL is a globally recognized Accountancy body and its qualification has gained wide acceptance all over the world. It was the first professional Accountancy Organization to be incorporated under an Act of Parliament. It has been conferred the sole authority of formulating Accounting and Auditing Standards in Sri Lanka. During its fifty years it has discharged its professional responsibilities in an exemplary manner consolidating the confidence reposed on it by the stakeholders.