Information and Communication Technology Agency of Sri Lanka (ICTA), the single apex body focused on developing the country's ICT policy will solidify its partnership with EDEX 2010, the largest National Higher Education and Careers Expo, taking on the role of a strategic partner for the third consecutive time.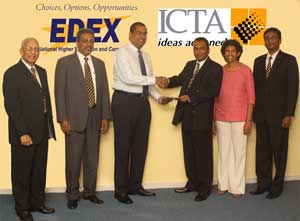 From left - Nalin Goonawardene Deputy Chairman EDEX, Athula Munasinghe Treasurer RCU, Mr.Reshan Dewapura Chief Operating Officer / Director ICTA , Kamal Abeysinghe Chairman EDEX, Chitranganie Mubarak Senior Program Head - e-Society ICTA, Asith de Silva Director Web Development EDEX
ICTA is of the view that EDEX as the leading higher education and career exhibition in the country is the best medium to take their message of developing ICT awareness to a mass audience.
"EDEX is one of the largest and most comprehensive higher education and career fairs with a huge reach among youth; therefore it is beneficial in promoting our goal of making ICT a pivotal tool in the country's socio-economic development. Through the EDEX Web Portal we hope to reach a vast audience, especially rural youth and share the value of ICT. This in turn will open up opportunities for them to pursue higher education and employment options of their choice." ICTA Chief Operating Officer Reshan Dewapura said.
While stating that the collaboration with EDEX has been effective and has paid rich dividends so far Mr.Dewapura noted that the partnership has strengthened with time because the EDEX goals and objectives match the vision of ICTA.
ICTA the driving force behind the e-Sri Lanka Initiative, will use EDEX as a platform to create awareness about the importance of ICT in capacity building and the potential of ICT related job opportunities.
"EDEX is the ideal mechanism to enlighten the youth of Sri Lanka about the growth of ICT related job opportunities, especially the IT/BPO sector. The rapidly expanding BPO industry still remains largely untapped with a huge potential. As of now the country's IT/BPO industry is the 5th largest foreign exchange earner. Our goal is to make it a one billion dollar industry in the next few years.
In order to do so we need a 100, 000 or so workforce and EDEX is the ideal way to get this message across. By working closely with EDEX, ICTA will promote the IT/BPO industry as a professional, high value, up market career. ICTA is currently engaged in promotional activities in this regard, we plan to use EDEX to push this message across a broad spectrum of people." Mr.Dewapura elaborated.
He further added that ICTA will also use EDEX as a platform to create an understanding about its Nenasala Programme with which it is envisaged to develop the country's ICT infrastructure. This is an integral element of e -Sri Lanka which is focused on taking the benefits of ICT to every village and every citizen through different modules of operation. ICTA will create an awareness about Nenasalas and showcase how these Nenasalas can be used to effectively improve one's ICT literacy at EDEX 2010 which is scheduled to get underway from January 15 to 17 at BMICH and January 19 and 20 at Kandy City Centre, Kandy.
EDEX too will largely benefit from this strategic partnership Mr.Dewapura elaborated as ICTA will open up its Nenasala Infrastructure to the EDEX Job portal, popularize the EDEX job portal in the ICTA website and other mediums of communication, and create awareness about EDEX and its mandate in numerous ICTA IT/ BPO career fairs.