The Lahore University of Management Sciences (LUMS) in Lahore, Pakistan, is a premier centre of learning in Asia. LUMS has a vision "to become an internationally acclaimed research university that serves society through excellence in education and research." Since its inception, LUMS has been providing rigorous, relevant and rewarding academic and intellectual training, while serving as a catalyst for economic prosperity and social development in the region. The graduates of LUMS are serving at high level managerial and operational posts in multi - nationals all over the world. LUMS is one of few Universities in the region recognized as "A Place of Excellence" by Asian Development Bank due to its high achivements.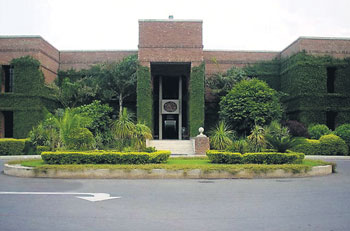 The Suleman Dawood School of Business (SDSB) of Lahore University of Management Sciences (LUMS) is a leading management school in the region with global perspective recognized for teaching and research excellence. SDSB is a leader in developing world class programmes focused on preparing students and executives for the real world of business.

An international outlook, including prestigious accreditations from Association of Management Development Institutions in South Asia (AMDISA), Association of Asia-Pacific Business Schools (AAPBS) and European Foundation for Management Development (EFMD) and the incorporation of global linkages, adds greatly to the innovation of SDSB's programmes. Collaborative linkages with highly renowned international institutions such as Bond University, Australia, Copenhagen Business School, Denmark, Seoul National University SNU, Korea, McGill University (CIDA), MIT, University of Chicago, and University of Sussex etc add immense value to the programme contents.

SDSB aspires to integrate a worldwide appeal to the BSc (Hons), MBA, Executive MBA, PhD Management and Executive and Social Development Programmes offered by it. At SDSB we provide our students with a feel for applied classroom learning through the Case Method of Teaching. The SDSB keeps a close working relationship with the business world. This communication validates the relevance of the curriculum and ensures that students are exposed to current business trends and practices.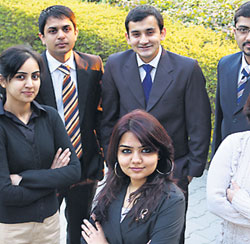 Being one of the premier institutions in Asia, SDSB attracts students from countries such as China, Nepal, Sri Lanka, India, Japan, Azerbaijan, Bangladesh and Uzbekistan among others. The diversity that students from other cultures and nations bring enhances the university experience, providing exposure to different ethnicities, promoting free flowing dialogue between students and a healthy exchange of thoughts and ideas.

To provide maximum international exposure to our graduates, SDSB has various student exchange programmes with well renowned institutes all over the world. SDSB students have the option to choose from a variety of institutes for international exchange programmes. These institutes include:


University Utara, Malaysia
Chiang Mai University, Thailand
Indian School of Business (ISB), Hyderabad, India
Management Development Institute (MDI), Gurgaon, India
Copenhagen School of Business, Denmark
Indian Institute of Management (IIM), Bangalore, India
Zagreb School of Economics and Management, Croatia
Sesul National University, Korea
University Sains, Malaysia
ESAN University, Lima Peru
Koc University, Turkey
Guanghua School of Managment, China
Bond University, Australia

To facilitate the rigorous academic regime, the university provides a comfortable study environment. The beautifully landscaped campus spread over 100 acres is very conducive to learning with state of the art facilities such as class rooms, library, information technology support, research centres, sports as well as student and faculty housing. The on-line library, computer labs, hostels and fully equipped classrooms aid students in focusing their energies on studying and maximizing their learning. Sports facilities such as the cricket grounds, hockey fields, courts for basketball, badminton and volleyball and the gymnasiums give the students a chance to stay physically healthy as well. A multi-purpose sports complex provides added sports facilities such as tennis courts, swimming pools, squash courts and others.

The SDSB faculty is a cornucopia of exceptionally able individuals, all experts in their respective fields. In addition to their educational knowledge and competence, a majority of the faculty bring their relevant industry experience to the classroom as well. To ensure quality instruction, the faculty is actively engaged in research, which expands the frontiers of knowledge in their own respective fields of specialization. SDSB has currently three focused research centres and one executive development centre.

Centre for Management and Economic Research stimulates, coordinates, and conducts research on major management and economic issues of the region. Entrepreneurship & Small and Medium Enterprise Centre works for the promotion of entrepreneurship in the region and for the developmental needs of SMEs. Case Research Centre is the case writing hub of SDSB working on case development, publication of the Asian Journal of Management Cases and organizing case workshops. Social Enterprise Development Centre works for the capacity building of social enterprises and The Rausing Executive Development Centre at SDSB offers and conducts a wide range of executive development programmes addressing the development needs of managers and leaders around the globe.
As a part of its international expansion drive, SDSB is currently inviting qualified students from as Sri Lanka to apply for its highly recognized MBA and other programmes. re details on SDSB, programmes, scholarships and how to apply can be found at http://sdsb.lums.edu.pk