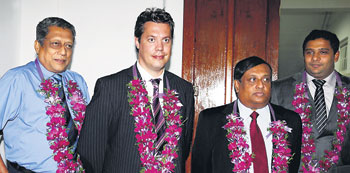 Wycherley International School is the first school in Sri Lanka to offer a total Cambridge experience from primary to secondary level and to be classified as a "Cambridge Centre". Wycherley International School now offers Cambridge programmes from grades/class 1 to 12. At Wycherley, students can follow an internationally recognized and highly respected Cambridge curriculum from their very first day until they graduate from high school. Wycherley is first international school in Sri Lanka to offer a structured, internationally recognized curriculum for Primary. This puts Wycherley students on par with any student overseas who has completed the CIPP.

Commenting on the partnership, Regional Manager South Asia for Cambridge International Examinations (CIE) Ian Chambers noted that CIE was "proud to strengthen its partnership" with Wycherley.

"Wycherley becomes the first Cambridge school in Sri Lanka to offer the full Cambridge curriculum throughout the school. This decision enhances the teaching and learning at the school as teachers and students have the benefit of continuity by following a Cambridge programme throughout their studies," he noted.

Pointing out that educators tell CIE they value the Cambridge Primary Programme since it provides an international benchmark for primary studies whilst measuring the progress of students over time, Chambers asserted that the Cambridge Primary Programme highlights the strengths and weaknesses of students in order to support learning and development in the important early stages of education.
In turn, it provides an excellent platform for progression to Cambridge middle years curricula, such as Cambridge O Level and A Level. The continuity of a comprehensive Cambridge programme path ensures a quality, coordinated education with seamless transition between levels. Students are more likely to do better as they progress because they are working in a familiar programme with a clear and consistent progression path.

"Cambridge is at the forefront of research into educational best practices, and a global leader in delivery of the highest quality school education", asserts Chambers. The Cambridge International Programme delivers cutting-edge education and assessment, based on 150 years of research and accumulated expertise. The CIE programme teaches students the skills they need to succeed in today's fast-paced, competitive societies and provides them with an internationally recognized and respected qualification.
And, since the Cambridge education system changes with current trends and education developments, parents and students can be assured of education that is always relevant and up to date.

"The Cambridge International Programme does not teach students WHAT to think; it teaches students HOW to think. It teaches knowledge, not merely facts. Cambridge students don't just learn; they learn how to learn, and they become passionate about learning," asserts Chambers.

The Cambridge O/Level and A/Level are, in fact, international passports for success. Each year, thousands of Cambridge students go on to study at the world's best universities. Cambridge students are recognized as well-educated individuals, who possess the necessary intellectual and personal qualities to succeed in the 21st century.
Tradition - Education - Excellence Wycherley International School's motto states the cornerstones on which this prestigious learning institution was founded in 1985. Recently acquired by ANC, innovative developments like the CIE programme continue Wycherley's evolution as a leading private international school in Sri Lanka.