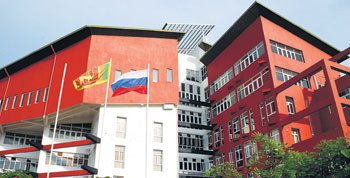 The long wait for the opportunity of obtaining a high quality, world renowned and recognized engineering degrees from high ranked international universities by studying in Sri Lanka are over.
The newly established multi-faculty green campus, South Asian Institute of Technology and Management (SAITM) at Malabe offers aspiring young engineering students an opportunity to study in Sri Lanka and obtain highly sought after B.Sc. in Engineering or Bachelor in Engineering degrees at an affordable cost.

B.Sc. Eng. degree from Asian Institute of Technology (AIT)

For those who are interested in Mechatronics Engineering, a relatively new engineering field into Robotics, SAITM has teamed up with a world renowned university, Asian Institute of Technology (AIT), Thailand (www.ait.ac.th) which also offers a 4-year B.Sc. degrees in Electronics and Telecommunication Engineering. AIT which celebrates 50 years of its leadership in post-graduate research and education in Asia is one of the foremost independent universities where a large number of graduates from state universities in Sri Lanka go for their post graduate studies.

AIT also boasts of a highly qualified multi-national faculty, laboratories of the highest standards, on par with anywhere in the world, and very strong bonds to the industries world over.

It is a fact that students graduating from AIT are in high demand in Australia, Canada and USA due to their superior competency level.

Those who wish to follow the courses offered by AIT could study the first two years at SAITM, where professors and senior lecturers of repute from State University Faculties of Engineering and abroad conduct lectures, backed up by modern laboratories monitored and standardised by AIT, and the final two years at AIT, where students are provided with in-campus hostel facilities.

Students interested in pursuing a career in Robotics, Aerospace, Manufacturing, Ship-building and Automobile Engineering can enter into the Mechatronics/Electronics/Telecommunication degree courses and specialize in the desired field at AIT.

B.Eng. degree from University of Wolverhampton, UK SAITM also offers a B.Eng. degree in collaboration with the University of Wolverhampton (UoW), United Kingdom (UK) for those who are interested in Civil Engineering in which the highest number of job opportunities available in the twenty first century.

As the world needs more and more infrastructure facilities, civil engineering field which covers construction, irrigation, hydraulics, highways and environmental sciences, to name a few, a very high career potential awaits young civil engineering graduates all over the world, with lucrative remuneration packages.

UoW, a highly ranked reputed British university offers a three year B.Eng. degree, with high quality staff from state universities backed up by modern laboratories and extensive field training opportunities.
Those who opt to follow a Master of Engineering degree can do so by studying an additional year in UK to obtain an M.Eng. from UoW.

The SAITM campus
All the courses are conducted at SAITM, Malabe campus where 90,000 sq.ft. of spacious facility is available with ultra modern computer and engineering laboratories, libraries and lecture halls and amenities to facilitate the best of opportunities for students.

The course fees are set so that as many bright young students could afford and complete their degrees without financial difficulties. Additionally, SAITM students are provided with loan facilities payable in 7 years with 4 years of grace period through Bank of Ceylon.

Next intake
Having successfully launched the first batches of students for all fields of engineering degree programmes, registrations are now open for the January 2010 intakes.

Those who are interested could contact: SAITM Marketing Team at Millennium Drive, off Chandrika Kumaratunga Mawatha, Malabe, www.saitm.edu.lk, email. info@saitm.edu.lk or contact by phone on 2413331, 5748442 for applications and registrations.