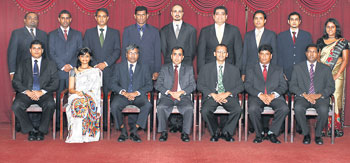 The ICASL recognizing the significant potential of its youth inaugurated a platform named Young Chartered Accountants' Forum for its young members to enhance and highlight their proficient skills and standards. The forum was inaugurated yesterday at the ICASL auditorium with Mr. Nishan Fernando the President of ICASL as chief guest, while Dr. Uditha Liyanage and Mr. Kishu Gomes being two eminent personalities in the corporate sector graced the event with their presence as guest speakers.

The key objectives of establishing this prospect is to develop its' young members' entrepreneurial and leadership skills while enhancing networking opportunities for the young members with diversified communities. The forum managed by 12 young and thriving Chartered Accountants will take the lead in organizing the institutes' events while assisting members and students of ICASL with their immaculate abilities

The youth council comprises of Chamara Bandara - President, Pyumi Sumanasekara- Secretary, Amila Sugathapala - Vice president, Tishan Subasinghe - Treasurer while others were appointed as youth council governors , namely Victor Perera , Jagath Perera , Ruwan Perera , Aruna Alwis CEO ICASL as permanent member , Ms Dilini Wijeweera , Channa Gunasekara , Channa Manoharan , Moz Ramanjee and Vibath Wijesighe.
With the launch of the YCA forum the responsibility of taking ICASL to new heights is now in the hands of its young members. The inaugurations' theme echoed a message to its colleagues to come join them to awaken, endeavor, conquer and make a change.