Education
---
ICRC and Faculty of Law, University of Colombo, organise National Moot Court Competition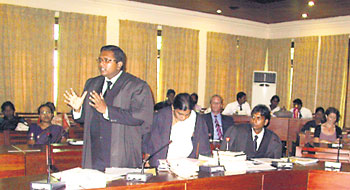 Two teams of undergraduates from the Faculty of Law who participated in a mock trial in the vernacular medium were the winners of the Henry Dunant Memorial National Moot Court Competition organised by the International Committee of the Red Cross (ICRC) and Faculty of Law, University of Colombo, which took place on November 26 at the Senate Hall of the University.

A total of 24 law students from the Faculty of Law participated in the three-day event which commenced with the preliminary round on November 23 followed by the semi final on November 24.

The participants were grouped into three Sinhalese and five Tamil teams who competed in their respective languages and were judged on their understanding of the law and ability to argue a fictitious case. Teamwork was also a criterion of assessment.

The panel of judges for the final round in the Tamil medium were M.A. Sumanthiran, Senior Attorney-at-Law, A.L.A Azeez, Director General for Middle East, Ministry of Foreign Affairs and Gowri Thavarasa, Senior Attorney-at-Law.

Justice Sathya Hettige, President, Court of Appeal, J.C Weliamuna, Senior Attorney-at-Law and Shriyangani Fernando, Deputy Legal Draftsman, Legal Draftsman's Department, Sri Lanka were the panel of judges for the final round in the Sinhala medium.

"The objectives of this event were to encourage those who study International Humanitarian Law (IHL) in the national languages of Sinhala and Tamil to enhance their knowledge of the subject and thereafter put it into practice outside the classroom," said Lakmini Seneviratne, legal advisor for the ICRC in Sri Lanka.

The ICRC's support to the Faculty of Law to promote IHL spans nearly ten years. It includes the provision of resource materials on IHL for the benefit of its undergraduate and graduate students and training for Faculty staff. Six members of staff have benefited from ICRC sponsored training in IHL and the Faculty has been donated 165 texts books on IHL and nearly 300 copies of the Geneva Conventions and Additional Protocols. The ICRC also provides the Faculty regularly with quarterly periodicals on IHL.
This is the second time the ICRC and Law Faculty jointly organized the Competition in the Sinhala and Tamil mediums. The first Competition was in 2007.

Earlier in October this year, the ICRC sponsored a team of law students from the Faculty of Law to participate in the Regional Henry Dunant Memorial Moot Court Competition in Dhaka, Bangladesh where they competed with law students from South Asia. A member of the Sri Lanka team received the award for best researcher.
|
E-mail
|
views[

1

]