Sri Lanka's next cricketing port of call will be India in November and December with 3 Tests, 2 T20 games and 5 ODI's in the line up! As we know India is one of the most difficult frontiers to conquer and many teams especially from outside the subcontinent have found it tough.

If my memory serves me correctly it was Tony Greig's team in 1976 on the way to the Centenary test in Melbourne and the David Gower's team in 1985 were the rare winners of a test series in India and in the last ten years it has been just Australia under the dual captaincy of Gilchrist and Ponting in 2005 winning a 4test match series 2 games to 1. Overall India has won 21 Tests at home out of 50 in the last 10 years losing just 10 whilst in ODI cricket the Indian record is 56 wins and 43 losses out of 102 games which are no doubt imposing!

In that context and background the Sri Lankan team is bound to be challenged very severely and could be one of the toughest assignments Kumara Sangakkara could ever expect to undertake.
If that is the ground reality how does one proceed from that position? We all know at the present moment there are rumblings in the background! And that is for very good reasons as Sri Lankans love their cricket and cricketers and would be willing to forget any major disasters on the back of a cricketing win. This was pretty evident during the time of terror in the country which is thankfully something of the past! So I feel the rumblings are justified and should be addressed without delay. But the question is have we understood where the problem is?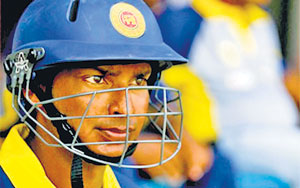 It is easy to lay the blame at the feet of the captain or players. But we all know that doing just that will not solve the problem but just aggravate it! To me the problem is not so much to do with the ability or lack of knowledge or anything to do with one's commitment but that fact that Sangakkara as a leader especially as a deep thinker seem to struggle to get the rest speaking the same language he speaks! Sooner the players try to understand the mind of the captain the team is bound to speak the language which the skipper wants!

Let's take a closer look at Sangakkara and his thinking and the insight! Anybody listening to him during the Champions League would have easily found the depth he has as a thinker and the knowledge he could bring in to the team and to the game when he was performing his role as TV commentator.

His analytical thinking and the way of identifying areas of importance was just amazing and I thought that some of the more experienced commentators who have also played at the highest level were certainly finding his knowledge of great interest and importance to understand the modern game and the thinking process. And here was one of the most competent captains in modern cricket dishing out his thoughts to the millions of audience imparting great insight and knowledge they would have otherwise not known. Imagine when such thinking is brought in to a game? I think what should be done is the players need to start understanding the skipper more.

I am very certain that judging by the way Sangakkara thinks he would have a special plan not just in the game but also in the training too for every aspect of the player's routine as well as for every player. I am also sure that spinners, fast bowlers, batsmen and even fielders will all be having separate
programmmes worked out by him to perform as he definitely understands the demands of the modern game. In the case of the support staff they are also bound to figure in his plans as team work would be obviously his priority.

Having said all this I am in no way suggesting that he is the ultimate authority in every aspect of cricket but my point is being a thinker and a very deep one at that he is sure to have some excellent thoughts and options to look at! And that is what I feel should be seriously followed by everybody involved. It is also common knowledge that each leader will have his own style of doing things and obviously Sangakkara is bound to be different to his predecessors on that count though his thinking mind to a great extent may surpass the others. If you place a man in position then it's important that the support, the confidence and also the authority with it be given to him. And when he could transfer that part of his game to the bigger picture I am sure the team will start to taste success more frequently. To me there is no reason for Sangakkara the captain not to perform as Sangakkara the batsman has been an overwhelming success! Critics will always argue that batting and captaincy are two different areas and can never be compared. But I feel the current Sri Lankan captain appears to be the type of player who can do both well and it appears that it tends to rub off well.

Therefore let's give Sangakkara all the support and encouragement and above all get the team to understand his mind better as to me he has all the credentials both on the field and off it to be the success Sri Lanka cricket wants him to be. And I am sure that way the Indian tour of November 2009 could be remembered for all the good reasons as against the pessimism expressed by some.
Sangakkara needs all the support that the team can give and at the same time let the team also learn to translate his thinking in to their own language

Roshan Abeysinghe is a leading cricket promoter and an international cricket commentator