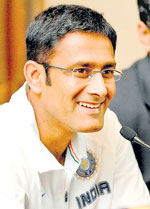 Anil Kumble
Former India spinner Anil Kumble has questioned his country's decision to drop veteran batsman Rahul Dravid for the upcoming home one-day series with Australia.

Dravid was recalled to the national side for the recent Champions Trophy in South Africa following an absence of two years as a replacement for the injured Virender Sehwag.

But with the explosive opener having recovered from a shoulder problem and hard-hitting batsman Yuvraj Singh also returning from a fractured finger that ruled him out of the 50-over tournament, the 36-year-old - who top-scored in India's disappointing campaign in South Africa - found himself as a surplus to requirements.

However former team-mate Kumble, who is set to once again wear the Indian colours at the Hong Kong Sixes at the end of the month, believes Dravid should have been retained for the seven-match series.
He said: "I don't know why they didn't continue with him. It's a call that the selectors made."I don't think someone who has played that long, of that stature, should have been dropped in that way after having performed in the Champions Trophy.

"I certainly would have wanted him to continue but probably the selectors thought that he came as a replacement for Virender Sehwag and Sehwag was fit so he had to go, maybe that was the reason."
India have failed to impress in their last two tournaments - they fell at the group stages in both the Champions Trophy and World Twenty20 - but Kumble believes any talk of a crisis is premature.
"People are reading too much into a couple of tournaments," he added.

"Twenty20 is a format where you can't really say who's going to win. Nobody ever thought that Pakistan would win, I don't think anybody gave them a chance.

"In terms of the Champions Trophy, it was disappointing that India didn't qualify (for the semi-finals) but if you look at the format, one loss in the opening game and you can't really recover. It's not that India has done poorly in the last two years." Indeed with the emergence of players such as Gautam Gambhir, Amit Mishra, Munaf Patel and Praveen Kumar, Kumble feels India now have the tools to dominate the world stage for the foreseeable future.

Cricket365